About Arizona Leisure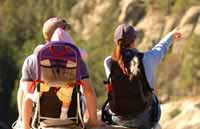 Arizona Leisure is passionate about providing informative value to its core audience of Arizona Vacationers, Business Travelers, Arizona Residents and those that are considering moving to Arizona. It is the most comprehensive Arizona Guide on the web with in depth articles and rich information relating to travel, vacation, tourism and relocation to Arizona. It intends to educate, entertain and inspire travelers from Arizona, the Nation and the World to discover the diverse beauty, life, culture, attractions and experience what Arizona has to offer.
We help people plan a rewarding experience by providing needs, desires and solutions. Our staff continuously researches and adds new content to maximize value to both its audience and its advertisers. Our goal is achieving the ultimate user experience with an easy to use presentation of extensive information. An objective is balancing substance with a limited degree of advertising without the disruptive use of animated, Flash or pop up advertising.
Our mission is the constant pursuit of perfection and therefore welcome construction suggestions, notification of factual error and feedback. Please contact us via email. We also welcome the submission of articles, but reserve the right to accept and/or edit article contributions.
Although we do not permit the commercial use of our content or images without prior written permission, we grant the right for users to download information for personal enjoyment. We further grant permission to teachers and students to use materials for classroom and student education purposes. We welcome relevant third-party websites to link to our web pages.
Other Information