Pinetop-Lakeside: Hub Of The White Mountains
There's so much to love about Pinetop-Lakeside, Arizona, the hub of the scenic White Mountains. This vacation getaway area in central-eastern Arizona is a favorite retreat of the desert-dwellers in Phoenix, Scottsdale and Tucson to escape the summer heat. At an elevation of about 7,200 feet, Pinetop-Lakeside features cool refreshing summer temperatures with an alpine-type setting of tall mountain peaks and lush forests that boasts of four season beauty and year-round outdoor adventure.
The entire White Mountains area features tall pines, crystal clear mountain lakes and dozens of creeks and rivers that meander from mountain slopes. This means great trout fishing and colorful meadows of springtime wildflowers and all year recreation including hiking, cross country skiing, horseback riding, playing pickleball, fishing, ice fishing, sledding, snowmobiling, hunting, golf and some of the most picturesque camping you will ever experience.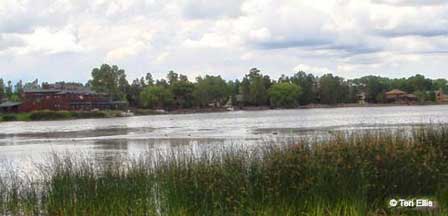 Scenic Location
Pinetop-Lakeside AZ is surrounded by the Apache/Sitgreaves National Forest and the White Mountain Apache Indian Reservation which owns the Sunrise Ski Resort and the Hon-Dah Resort Casino. The White River flows east, the Black River south. Less than 20 miles southwest of the White Mountain Apache Tribe's headquarters in Whiteriver, they flow together to form the Salt River. On the northern flank of the mountains, the Little Colorado starts its nearly 300-mile journey northwest across the Painted Desert to join the Colorado River, marking the point where Marble Canyon becomes the Grand Canyon.
Pinetop-Lakeside is located about 190 miles northeast of Phoenix and about 90 miles east of Payson Arizona and shares White Mountain beauty with its sister-communities of Greer, Taylor, Show Low, Springerville, Eagar, Heber-Overgaard, St. Johns and the White Mountain Apache Indian Reservation.
A Quick History
At one time Pinetop and Lakeside AZ were separate towns originally founded by Mormon pioneers in the early 1880s. Pinetop derived its name from the nickname of a saloonkeeper and Lakeside was named after the many lakes in the area. The two communities incorporated as one town in 1984. Its 2006 population was 4,156 residents.
Regional Attractions
The main attraction are cool temperatures, an abundance of mountain lakes, hiking along over 180 miles of non-motorized, multi-use trails, winter recreation, camping and several very scenic golf courses. Fort Apache is located about 4 miles southwest of Whitewater near Highway 73 and features General Cook's Headquarters and the Apache Cultural Center.
Related Pinetop-Lakeside Interest
Pinetop/Lakeside
Average Temps-Weather Pinetop Lakeside
Pinetop Lakeside Bed & Breakfasts
Pinetop Lakeside Map & Directions
Pinetop Lakeside RV Campgrounds
Pinetop Lakeside RV Parks
Where To Stay
Pinetop-Lakeside offers accommodations and lodging to fit any style and budget including hotels in Pinetop-Lakeside, cabins, bed and breakfast inns, and campgrounds.
Getting To Pinetop-Lakeside
From Phoenix. Take State Highway 87 north (Beeline Highway) to Payson. From Payson take State Highway 260 to Show Low. From Show Low, continue on Highway 260 to Pinetop-Lakeside.
Map to Pinetop-Lakeside, Arizona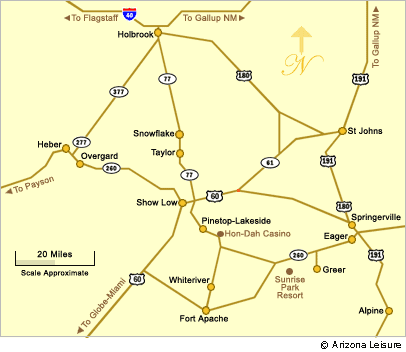 More Information
Apache Sitgreaves National Forest
Beautiful White Mountains In Arizona