Hawley Lake
White Mountains Apache Indian Reservation
This 260 acre lake is located on the White Mountains Apache Indian Reservation near Pinetop Lakeside in Arizona's White Mountains. At a high altitude of about 8,200 feet, the climate during late spring, summer and early fall are cool and refreshing making it a popular getaway spot for the desert dwellers in the Phoenix and Scottsdale area.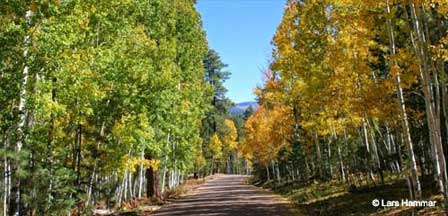 Hawley Lake is simply beautiful. It is surrounded by high mountain peaks covered with thick forests of spruce, pine and aspen. Despite the cold temperatures and frequent heavy snowfall during the winter, Hawley Lake and the access road is open year-round. Ice fishing is popular in the winter when the lake freezes over.
Fishing, Boats, Guidelines & Amenities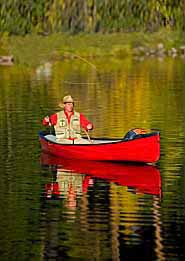 Trout live here. You'll find Brown, Brook, Cutthroat and Rainbow Trout in these waters. As with all lakes on the Fort Apache Indian Reservation, a special Indian Reservation fee is required and a special permit is required to fish Earl Park Lake which is about one-half mile southeast of Hawley Lake.
Services include a boat dock with boat rentals. If you bring your own boat, the lake prohibits gas-powered motors. Only electric motors are permitted. Of course small sailboats, canoes and kayaks are permitted. There is a combination service station and grocery store on property where you can purchase fishing licenses, camping and RV Park fees. Laundry facilities are available.
In addition to campgrounds and an RV Park, there is a lodge and many cabins that are available for rent from about mid-May to the end of September .Swimming is not permitted. Firearms of any kind are prohibited. Campfires are also prohibited. RV vehicles, trailers and tents are not permitted in the cabin areas. There are Black Bear in the area. Do not leave food outside and do not approach a bear.
Lodge and Cabins
Accommodations include a lodge and many cabins of varying size from one to five bedrooms that will accommodate from 2 to 14 people. The fees vary per cabin size. Most cabins are within walking distance of the both Hawley and Earl Park Lake and are fully furnished including bed linens, pillows, towels, dishes, pans, utensils, coffee makers and toasters. There are no telephones, televisions, microwaves or radios, but guests may bring their own. Guests may consider bringing extra blankets, pillows, extra towels, coffee filters, small BBQ grills and lawn chairs. For more information, call (928) 335-7505.
Directions To Hawley Lake
From Phoenix. About 210 miles. Take Highway 260 Northeast through Payson, Show Low and Pinetop Lakeside. Upon reaching Hon Dah Resort Casino, drive about another 11 miles to Highway 473 and turn south for about 11 miles of which the first 9 miles are paved.
For More Information
Lodge & Cabins (928) 369-1753
Grocery Store (928) 335-7511
Nearby Lodging
If you prefer not to camp or rent a cabin on Hawley Lake, you'll find Pinetop Hotels and Show Low Hotels convenient. You might also consider other cabins or a bed and breakfast inn in the White Mountains area.