Show Low, Arizona. Gateway To Four Seasons of Beauty.
Mountain lakes and streams. The forests of the White Mountains and the Mogollon Rim. Four seasons of scenic beauty in an outdoor enthusiasts paradise. Meadows of wild flowers in the spring, cool refreshing summers, the changing colors of fall, and crisp winters of fresh fallen snow. At an elevation of about 6,400 feet, Show Low is the popular high country vacation hub and it shares the astounding beauty and outdoor recreation paradise of Arizona's White Mountains country with its neighbor towns of Pinetop Lakeside, Taylor, Springerville, Heber-Overgaard, Eagar, St. Johns and the White Mountain Apache Indian Reservation.
Show Low is located in Central-Eastern Arizona about 175 miles northeast of Phoenix and Scottsdale, and about 195 miles from Tucson, so it is a favorite vacation getaway place of the desert-dwellers to escape the heat of summer and to ski the slopes of the nearby Sunrise Ski Resort.
How Show Low Got Its Name
Whether true or not, legend has it that two men who were bitter enemies, C.E. Cooley and Marion Clark decided that there wasn't enough room for both of them in the settlement. Mutually they both agreed to let the fate of a card game decide who would leave. According to the legend, Clark said, "If you can show low, you win". Cooley turned up the two of clubs, so Clark had to leave. The town became known as " Show Low " from that point forward.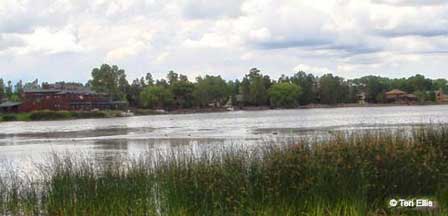 Outdoor Adventure and Recreation
Water recreation abounds both within Show Low and in the White Mountains area with beautiful mountain lakes and streams. Bass, Walleye, Crappie and species of Trout populate the waters in the area. This is the only place in the world to find the Apache Trout.
This high country is a hiker's dream where a variety of landscape features both easy and more difficult hiking trails from mountains to rugged cliffs, around lakes, alongside mountain streams and among thick pines and colorful aspens. An abundance of wildlife including black bears and elk and deer are often seen by hikers along with hawks and eagles that fly the skies above.
A few miles north of Show Low, the Pintail Lake Wildlife Area offers exceptional bird-watching opportunities. Migratory geese as well as the famed white-breasted pintail are a few favorites, but there are many other bird species to behold.
Show Low and the area also features several championship golf courses that meander through the forests and around the lakes. The cool summer temperatures makes the Show Low area a great place for a golf getaway.
Related Show Low Interest
Show Low Arizona
Average Temps-Weather Show Low
Show Low RV Campgrounds
Show Low Bed & Breakfasts
Show Low Map & Directions
Show Low RV Parks
Hon-Dah Casino
As if the outdoor activities were not enough, Show Low is just fifteen miles from the Hon-Dah Casino, which offers plenty of slots, poker, and more. The Native American-run casino offers additional year-round entertainment such as concerts, car shows, comedy shows, and pow-wows. The casino also features a hotel and restaurant that offers everything from gourmet faire to pizza. The casino is located at the junction of Highway 260 and 73.
Sunrise Ski Park Resort
If you are a snow ski enthusiast, the Sunrise Ski Park Resort is just about 34 miles from Show Low. You can escape into the wilderness, ski, mountain bike, enjoy our annual festivals and fish to your heart's content on Sunrise Lake. Or you can simply look out on some of the most beautiful land in Arizona. Summer or winter, when you come to Sunrise Park Resort in the White Mountains of Arizona, you'll find a land, and excitement, you'll want to experience throughout the year.The resort is owned and operated by the White Mountain Apache Indian Tribe.
Getting To Show Low
From Phoenix. Take Highway 87 to Payson and then Highway 260 to Show Low. Phoenix and Scottsdale is about a 175 mile drive through beautiful country.
Show Low Area Map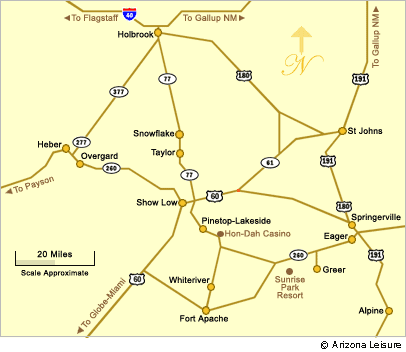 Where To Stay
Choose from a variety of Show Low Hotels, Pinetop Lakeside Hotels or Bed and Breakfast Inns in the White Mountains area.
Beautiful White Mountains In Arizona