Lake Powell Facts
Lake Powell has over 2,000 miles of shoreline which is more than the combined states on the Pacific Coast. It is 400 feet deep, 186 miles long and has a water storage capacity of 27,000,000 acre feet of water.
Over 3,000,000 people visit Lake Powell and the Glen Canyon National Recreation area every year. The average length of stay of 4.5 days is the longest stay of any federal park.
Lake Powell was formed when the Glen Canyon Dam was completed in on the Colorado River in 1963. Lake Powell took 17 years to reach "full pool" in 1980.
Glen Canyon Dam which creates Lake Powell was completed in 1963 and rises 710 feet above the Colorado River. It provides essential water storage and electric power to small rural electric co-ops, Native American reservations and towns throughout Utah, Colorado, Arizona and New Mexico.
Glen Canyon Power Plant has eight generators with a combined capacity of close to 1.3 million killowatts.
Lake Powell was named in honor of Civil War veteran John Wesley Powell who led an expedition in wooden boats down the Colorado River through the Grand Canyon in 1869.
Rainbow Bridge National Monument, the largest natural bridge on earth, is the most famous site on Lake Powell. Each year hundreds of thousands of visitors come to admire this graceful stone arc located about 50 water miles from Lake Powell Marina and accessible by tour boats and private vessels. Prior to the formation of Lake Powell, visiting Rainbow Bridge required a long, rugged, waterless hike or horseback ride.
Facilities and amenities at Lake Powell include two visitor centers, five marinas, permanent mooring for over two thousand private vessels, lodging, restaurants, campgrounds and RV facilities. Convenient services include houseboat rentals and boat rentals dockside and dry boat storage, fishing, water sports gear, groceries, general merchandise and guided tours.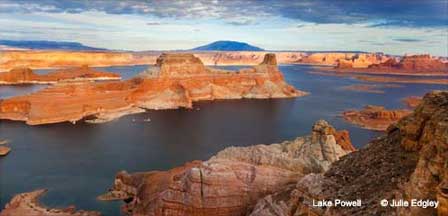 Lake Powell & Page Arizona