Scholz Lake Sunset in Flagstaff. © Logan Brumm
Mention Arizona and people conjure-up images of cactus and hot desert. Not in Flagstaff. This is cool high mountain country. At an elevation of about 7,000 feet, Flagstaff features thick forests, bounding wildlife and sky blue mountain lakes all back-dropped by the San Francisco Peaks, the highest mountain range in Arizona at 12,633 feet. Combined with its high elevation and low humidity, Flagstaff, Arizona is definitely a four-season, all year vacation paradise with all the outdoor adventure you can handle.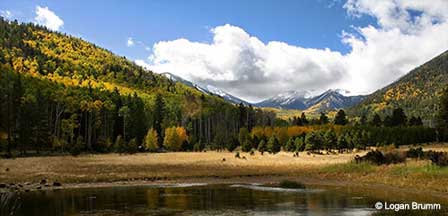 Flagstaff AZ is considered the commercial hub of Northern Arizona and is an ideal home base when visiting some of the most popular Northern Arizona attractions including the Grand Canyon South Rim which is less than 70 miles north of Flagstaff. Flagstaff is home to Northern Arizona University, so you can consider Flagstaff as a college town located at the convergence of Interstate 40 (East-West) and the I-17 Freeway from the south about 150 miles from the Phoenix and Scottsdale area. See the Flagstaff AZ Map.
So Many Things To Do in Flagstaff
With a 2014 population of about 66,000 and rich history, Flagstaff is a complementing mix of small town charm, historic landmarks, modern amenities, and wide open spaces for outdoor adventure. There are endless hiking trails ranging from short easy strolls to more difficult hikes like Humphreys Trail at Mount Humphreys, the highest peak within the San Francisco Peaks which is home to the Snowbowl Ski Resort.
Arizona has the longest stretch of Historic Route 66 which passes through Flagstaff AZ. There is a rich culture of the old west and Native American tradition handed down from ancient Indian civilizations that once made their home in Flagstaff. Many well-preserved Indian ruins still exist in the area including Wupatki and Walnut Canyon. Those who like to hit old town will have a hard time choosing between all of the locally-owned shops, restaurants, galleries, and nightlife in historic downtown. Families can even enjoy outdoor movies in the center of town. And what a great place to celebrate the coming New Year with the traditional dropping of the Great Pinecone from atop the Weatherford Hotel. As Flagstaff's traditional New Year's Eve symbol, the Great Pinecone is to Flagstaff what the glitzy giant ball is to New York City.
Flagstaff attracts outdoor enthusiasts year-round with its spacious vistas and cool, clean mountain air. Favorite activities in addition to hiking are biking, golfing, camping, boating, fishing, and rock climbing. During the snowy winter months, Flagstaff beckons skiers and snowboarders, as well as families who come to enjoy nearby Wing Mountain Snowplay.