Laughlin, Nevada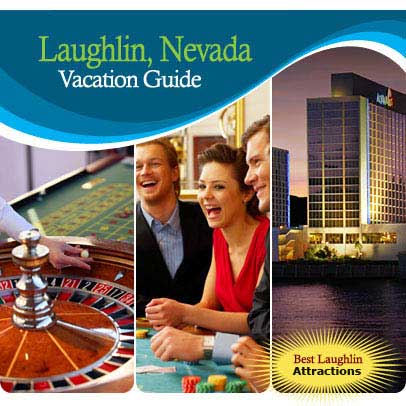 Located just 90 miles south of Las Vegas and about 240 miles northwest of Phoenix, Laughlin sets on the western shores of the Colorado River in Nevada across the bridge from Bullhead City, Arizona. Laughlin NV is the ideal destination for those that enjoy a vacation that combines Las Vegas style glitz and casino gambling with outdoor adventure and water recreation. It has what Vegas has to offer with a laid-back attitude.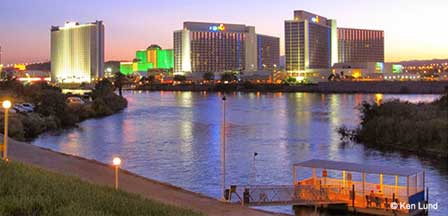 This relaxed and friendly atmosphere welcomes over 4.5 million visitor each year that come to enjoy Laughlin's nine casino resorts, boating on the Colorado River and the nearby Lake Mohave, great golf courses and spectator events including a world-class rodeo and off-road racing. Laughlin is also a gateway to some of the most spectacular hiking and off-road trails in the country.
Cool Waters of the Colorado River
The Colorado River, the nations fifth longest river is a boater and water enthusiast's paradise where vacationers flock to launch their boats, water-ski, jet-ski, sail , kayak, and enjoy some old-fashioned river fishing. Launch ramps, landings and marinas are abundant and convenient.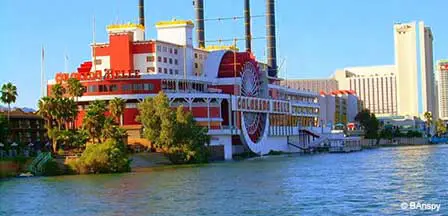 The Lake Mohave and Lake Mead National Recreation Area is rich in wildlife and is a popular destination for fishing, boating, camping and water skiing. Katherine Landing, located nine miles north of Laughlin at Lake Mohave, features RV facilities, boat rentals, boat slips, launch ramp, picnic area, marina, restaurant and other resort amenities. Katherine Mine, the remnant of a booming 19th-century gold mine, is located a short distance from the shores of Lake Mohave.
Outdoor Adventure
After you have visited the Laughlin casinos and cruised the Colorado River, make a point to visit one of the area's scenic outdoor areas. Spirit Mountain is found to the west and is spectacular during the morning sunrise. Several trails ranging from moderate to the rugged criss cross their way up the jagged peak and on clear days, the view reaches over a panoramic 100 miles.
Best suited for the cooler fall, winter and springtime seasons, hikers should always remember to carry sufficient water and be on the lookout for all of nature's surprises. From unseasonable weather to crawly creatures, the desert is a fascinating and often unpredictable place. Keep an eye on your surroundings and you will have a great time reaching the type of Spirit Mountain. Getting there is easy - head north on Nevada Highway 163 just over five miles to Christmas Tree Pass turnoff. This is an unpaved road that will take you three miles to the parking turnoff.
Mountain Bikers will enjoy the relatively flat terrain of Christmas Tree Pass as well. The traffic is light and the scenery is fantastic. Several craggy boulders will dot the trail and the slight inclines will make the trip worthwhile for even the most seasoned riders.
Grapevine Canyon is a slightly easier hiking area, with several petroglyphs left by the area's indigenous people. A short 30 minute drive time from Laughlin, Grapevine Canyon can be reached by following the signs off Christmas Tree Pass road.
Ghost Town of Oatman Arizona
A once-thriving mining community, Oatman, Ariz., takes visitors back to the days of the Old West with cowboy gunfights and showdowns in the middle of town. Wild burros roam the streets of this popular setting for many movies and TV westerns. City folks can saddle up for a scenic western trail ride with Oatman Stables. Your trail guide will take you through the hills of Oatman for a cowboy's view. Supper rides, breakfast rides and cattle drives are also available September through May. Oatman is about 30 miles southeast of Laughlin and sits on the longest stretch of Historic Route 66.
Bring the Kids
Laughlin is truly a family friendly desert oasis and there is something fun for everyone. Kids will love the 23 movie screens, the bowling alley, dozens of arcades and swimming pools that dot the Laughlin landscape. Older teens (15 years and up) can rent personal water craft and hit the river and the entire family will enjoy a jet boat tour to Lake Havasu that leaves daily from the Pioneer Casino.
If you are looking for a place to entertain the kids while you visit the casinos, children 6-12 can visit Mountain View Park offered by the Boys and Girls Club and for just $5 a day can enjoy tennis, basketball, jungle gym equipment. The Kid Kastle welcomes children from 3 months to 12 years and has a soft play area, video games, its own movie theater and CPR trained staff to watch over the little ones while you enjoy an afternoon of grown-up fun.
Across the bridge in nearby Bullhead City Arizona you will find Scooter's Family Fun Center, an outdoor miniature golf course and arcade. Whether in town for a weekend or an entire week, there are plenty of activities to keep the whole family busy.
Getting to Laughlin, Nevada
From Phoenix. Take Grand Avenue West (US 60) to Wickenburg AZ. Then take US 93 north through Wikieup AZ to I-40 west through Kingman. Take the Bullhead City / Las Vegas exit and turn right at the signal at the end of the exit ramp. Continue west taking the Highway 68 ramp toward Bullhead City / Laughlin. Highway 68 merges into Arizona Highway 95. Turn right at the Laughlin Bridge.
Approximately 225 miles from Phoenix, about a 4 hour drive.
From Southern California. I-15 north to Barstow; I-40 east to Needles, CA. Exit on River Road cutoff, turn north for 22 miles on Needles Highway to Casino Drive, turn right.
Approximately 283 miles from Los Angeles, about a 5 hour drive.
Approximately 335 miles from San Diego, aAbout a 6 hour drive.
From Las Vegas: Interstate 515, US 93/95 south through Las Vegas towards Boulder City. After passing through Henderson and the Railroad Pass, take ramp and turn right onto US 95 south toward Searchlight/Laughlin for 55 miles. Turn left onto NV 163. Head east for 19 miles. Turn right on Casino Drive.
Approximately 90 miles from Las Vegas.
More Information About Laughlin
Laughlin Visitor Information Center
1555 Casino Drive
Laughlin NV 89029
(702) 298-3321
(800) 4- LAUGHLIN
The Laughlin Visitor Information Center will send you a Visitor Information Packet. Click here to make your Vacation Packet request online.
Map Directions To Laughlin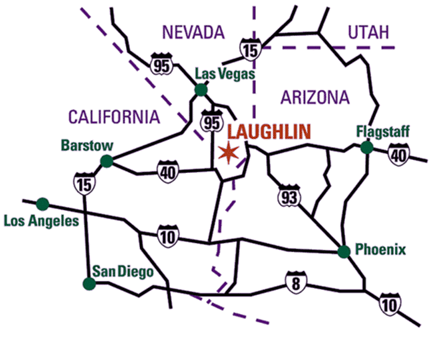 Credit: Laughlin Visitor Center
Laughlin City Map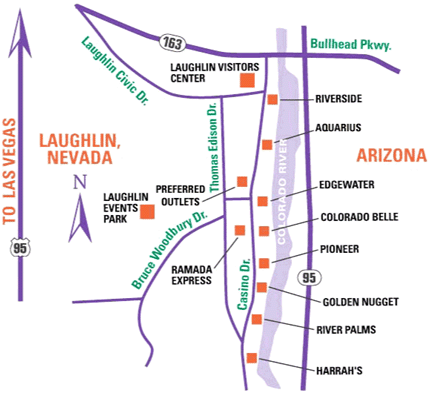 Credit: Laughlin Visitor Center
Along The Colorado River