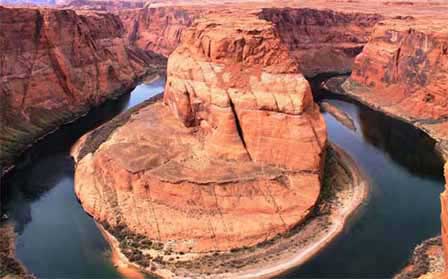 Horseshoe Bend. Credit: NPS
Take one look. The visual adrenalin will unleash. Views of Horseshoe Bend are breathtaking. Goosebumps are guaranteed. Standing on the edges of of canyon cliffs that drop 1000 feet straight to the river below can make the weak-kneed a bit uneasy. The distant panoramic horizon views down Glen Canyon are mesmerizing. If you are afraid of heights don't get too close to the cliff edges. There are no handrails.
Located a few miles from Page, AZ, Horseshoe Bend is a photographer's dream. It is likely the most photographed single spot in Arizona. It is so named by the shape of the meandering Colorado River below as it flows one way and then makes a quick "horseshoe" turn as it continues on its path through Lees Ferry and its journey through the Grand Canyon.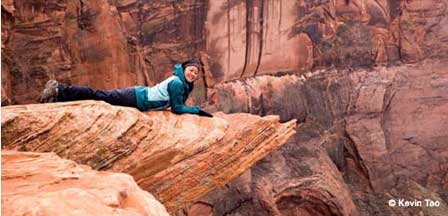 The Short Hike To Horseshoe Bend
The hike to Horseshoe Bend is only about 3/4 mile from the parking lot. Walk along the plateau until suddenly arriving at an abyss that opens up before your very eyes. You can stay back, sit on a boulder and absorb the incredible scenes or if you dare, get as close to the edges of the cliff as you dare. Without guardrails be very cautious. Watch children carefully. This is not a place for unleashed pets. It is not wheelchair accessible.
Horseshoe Bend is open from sunrise to sunset everyday. Whether it is your first visit or 50th, you are bound to see something different and inspiring each time. Colors of cliffs and boulders continuously change as shadows and sun rays move in and out of the canyon. The colors of the river below can range from shades of emerald green to dark blue.
Occasionally visitors may see a power boat at the bottom. It will seem very tiny giving some reference to magnitude of the size of Horseshoe Bend. It's a great place to enjoy a picnic within solitude and tranquility. By all means, do not forget your camera.
Map Showing General Location of Horseshoe Bend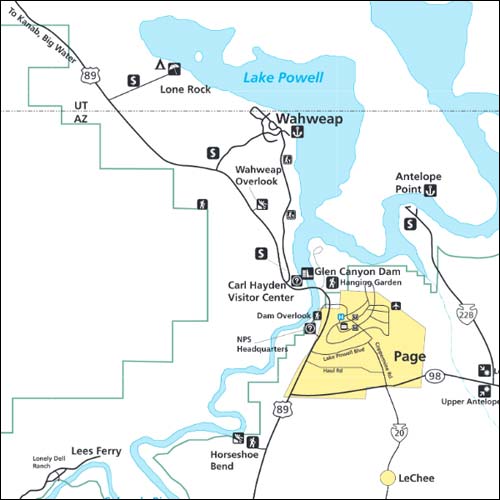 Getting To Horseshoe Bend
From Flagstaff. Page is located about 135 miles north of Flagstaff, Arizona. Take Highway 89 North from Flagstaff to the Highway 89T turnoff which is about 35 miles north of Cameron, AZ. Continue north on 89T to Page, AZ.
From Page. Once you're in Page, take Highway 89 South to between mileposts 544 and 545. There is an exit lane and a dirt road on the west side of the road. Take the dirt road to the Horseshoe Bend parking lot.
Related Topics and Interest
Page Arizona Weather
Lake Powell
Glen Canyon Dam
Glen Canyon Dam Overlook
Glen Canyon Recreation Area
Antelope Canyon