Black Canyon Lake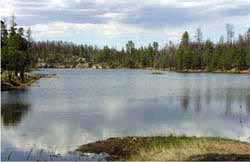 Compliments of Arizona Game & Fish
Location and Description. Like all Mogollon Rim Area Lakes, Black Canyon Lake is scenically forested. Although the surrounding forest was adversely effected by the 2002 Rodeo-Chediski Fire and some trees around the lake were charred, a sizeable portion of the lake is lushly forested. Because of the danger of falling trees damaged by the 2002 fire, the entire area around the lake is limited to day use only until further notice. Check with the Arizona Game and Fish Department for future changes. The lake sits at an elevation of about 7,000 feet in the Apache-Sitgreaves National Forests about 15 miles southwest of Heber-Overgaard, Arizona. Roads to the lake are generally closed from December to early April due to snow.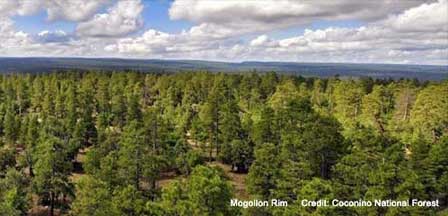 Lake Size. The lake's water surface is 78 acres with an average depth of 35 feet and a maximum depth of 60 feet.
Fish Variety. Primarily Rainbow Trout with some illegally introduced Largemouth Bass and Green Sunfish. Varying sizes of rainbow trout are stocked in the spring and early summer.
Fishing. The best way to catch the larger trout is fly fishing from a boat or float tube. Good surface bites are reported in the evening with dry flies. Trolling early and late in the day can produce larger trout. Try nightcrawlers off the lakes bottom. Children will have fun catching green sunfish with bobbers and nightcrawlers. Fishing licenses with a a trout stamp is required for all anglers 14 years and above. The daily bag limit is six trout, six bass and unlimited sunfish or three trout for unlicensed anglers under the age of 14.
Boating. Launching Area, 10HP Single or Less
Camping, Hiking & Amenites. Camping is permitted only at two nearby campgrounds with the closest being Black Canyon Rim Campground near the junction of Forest Roads 300 and 86. It includes 21 camping sites, water and chemical toilets. Gentry Campground is 2 miles further down FR 300 and has 6 camping sites with water and a vault toilet. The campgrounds are fee-based and you cannot make reservations. At the lake, there is one boat ramp and 2 barrier toilets.
Directions. Take Highway 260 southwest of Heber-Overgaard to Forest Road 300. Go south on 300 for about 2.4 miles. Turn east (left) on Forest Road 86 about 3 miles to the lake turnoff. If you are driving from Payson, take Highway 260 northeast and follow same directions.
Nearest Lodging. See Payson Area Hotels with the closest town to the lake being Heber-Overgaard. Also see Payson Area Cabins and Payson Area Bed and Breakfast Inns.
More Information