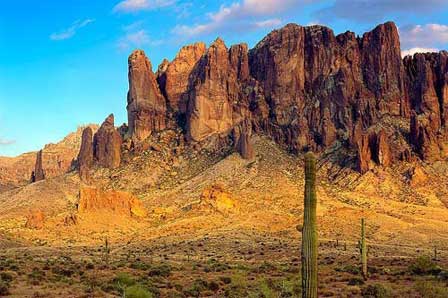 Superstition Mountain Apache Junction AZ
The majestic monolith of Superstition Mountain is the world famous icon that separates urban luxury and wilderness adventure. At 3,000 feet high, Superstition Mountain seems to stand guard protecting the lore, myths, stories past and the spectacular Superstition Wilderness that still belongs to yesterday.
People that have never been to Arizona believe that everything that survives in the desert either stings, pokes, bites or eats meat. Well, that sounds a lot like people. At or around Superstition Mountain, one can bite-off what he or she wants to chew.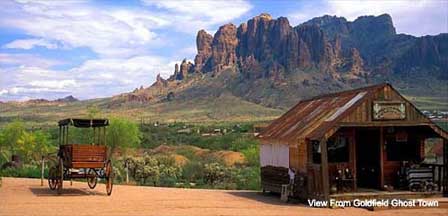 If you're the outdoor hiker type, you can meander with nature. Hike the endless wilderness trails, look for the Lost Dutchman's Goldmine and even happen-stance upon exposed ancient Indian artifacts. Maybe even come face-to-face with a bobcat, mountain lion, javelina, coyote and sometimes a black bear if you to penetrate really deep into the Superstition Wilderness.
For those that prefer a poolside lounge with a Margarita and envious views, the base of the Superstition Mountain offers resort luxury and fantasy championship golf. The Gold Canyon Golf Resort comes to mind where the night skylines of Metro Phoenix area are amazingly beautiful.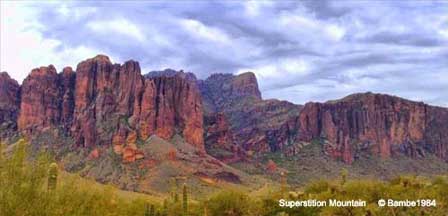 The Superstition Mountain, located just east of Apache Junction AZ has long been the subject of interesting stories, mystery, Indian lore and tales of lost treasures of gold. Most are true, some are myth while others may be true albeit embellished through generations.
But for sure, the entire Superstition Mountain Wilderness Area offers a diversity of experiences. You'll discover abandoned ghost towns, historical museums and vast, wide-open hiking trails among the giant Saguaro.
Nearby in very close proximity are the recreation highlights of the Verde River, and the lakes of Canyon and Saguaro where boating and fishing among the canyon walls offer views that exist no where else on earth.The Apache Trail runs alongside the Superstition Mountain Wilderness has been described as one of the most scenic drives in America which leads to Apache Lake and Roosevelt Lake.
Related Apache Junction Interest
Apache Junction Arizona
Apache Trail
Apache Junction Horseback Riding
Apache Junction Map
Apache Junction Renaissance Festival
Apache Junction Weather Info
Fishing Near Apache Junction
Goldfield Ghost Town
Lost Dutchman Mine
Lost Dutchman State Park
Superstition Mountain
Apache Junction Chamber
See it all. Do it all. Superstition Mountain offers experiences that will keep you coming back to where the aura of ancient civilizations and old west permeates all around Superstition Mountain.
More Information and Suggested Reading
Historic Apache Trail
Goldfield Ghost Town
Canyon Lake Arizona
Apache Lake Arizona
Lost Dutchman Mine
Lost Dutchman State Park