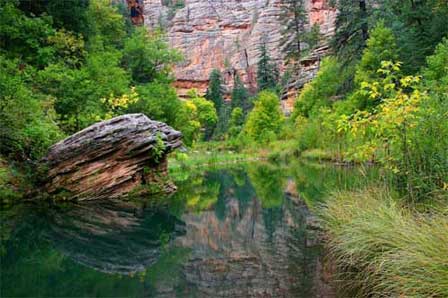 Oak Creek Canyon West Fork Trail. © Mike Koopsen
Oak Creek Canyon is located between Sedona and Flagstaff, Arizona. The distance between the two cities is about 28 miles and Oak Creek Canyon comprises about 14 miles of that distance along State Route 89A. The road can be closed during the winter season due to heavy snow and inclement weather.
From Phoenix. Take Interstate 17 (Black Canyon Freeway) north towards Flagstaff about 98 miles. Take Exit 298 east which is just north of Camp Verde, Arizona. Then take Highway 179 about 14 miles to Sedona and State Route 89A where the trip up the canyon begins.
From Flagstaff. If the weather is good, take Interstate 17 south from Flagstaff 2 miles and exit at US Highway 89A (Exit 337). This begins the scenic 25 mile drive that initially starts in rather flat elevation through thick Ponderosa Pine forest until you come to Oak Creek Canyon Vista which marks the descent into the canyon.
Map Directions To Oak Creek Canyon
The left route indicated on the map shows the directions from the Phoenix area to Sedona and the ascent up Oak Creek Canyon. The circle route via the I-17 Freeway can complete a loop scenic drive. However, try driving both the canyon ascent and descent to enjoy views from both directions.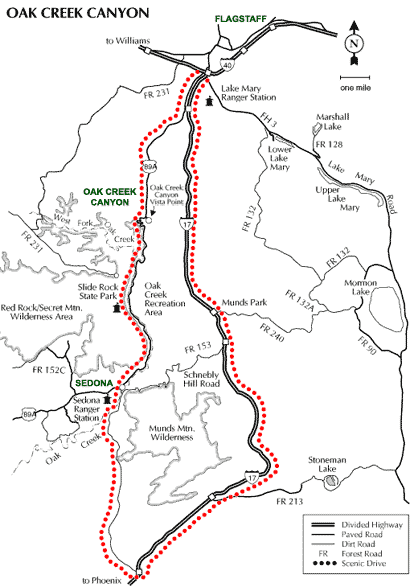 Related Sedona Interest
Sedona Arizona
Map & Directions Oak Creek Trail
Oak Creek Canyon Map & Directions
Oak Creek Canyon Photos By Koopsen
Oak Creek Canyon Vista Point
Sedona Aerial Photos By Koopsen
Sedona Winter Photos By Koopsen
Verde Canyon Railroad