Goldwater Lake Prescott Arizona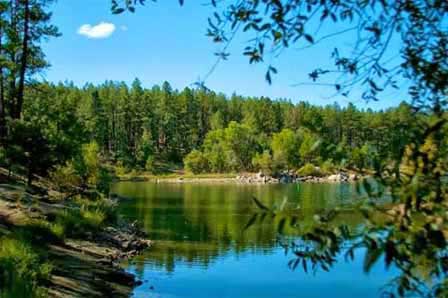 Goldwater Lake. © City of Prescott
Goldwater Lake at Goldwater Park is located just a four miles from downtown Prescott. It is a small lake with 15 acres of water surface, but features tons of family fun with park recreation and picnic facilities. The lake is small but has great views and perfect waters for canoeing and kayaking and also features a great hiking trail. It is open all year.
Average Prescott Weather. Check the current temperature in Prescott and see our Climate and Temperature Chart that reflects average high and low temperatures by each month. It includes average rainfall, sunrise and sunset times.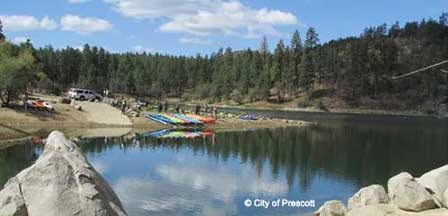 Hours of Lake Use. From Memorial Day through Labor Day, the lake is open 6 AM to 10 PM. From Labor Day to Memorial Day, hours are 7 AM to Sunset. A $2.00 per vehicle applies.
Boating at Goldwater Lake. Only boats with electric motors are permitted along with kayaks and canoes. Kayak and canoe rentals are available during hours of opertion. Prescott Outdoors will handle rentals. They can reached at (928) 925-8858.
Types of Fish. The Arizona Game and Fish Department stocks the lake with rainbow trout every few weeks during the summer months. Largemouth bass, crappie, channel catfish, bluegill and sunfish also occupy the lake.
Swimming. Swimming is not permitted.
Hiking at Goldwater Lake. An easy hiking trail rings around Goldwater Lake and connects with other trails in the Prescott National Forest.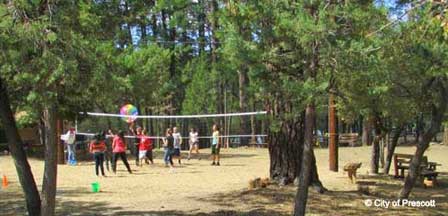 Picnicking at Goldwater Lake. Picnic tables, grills, restrooms, boat ramp and a children's playground is available. There are also sand volleyball courts and horseshoe pits for recreation. Picnic facilities are handicapped accessible.
Directions to Goldwater Lake. Goldwater Lake is located about 4 miles south of downtown Prescott AZ. From Courthouse Plaza, go east on Gurley Street about a 1/4 mile and then turn south on Mount Vernon Street, which is the beginning of Senator Highway for about 4 miles to the lake's entrance.
More Goldwater Lake Information
City of Prescott Parks and Lakes
2900 South Goldwater Lake Road
Prescott, Arizona 86301
(928) 777-1122
Lodging and Accommodations
Prescott Bed and Breakfasts
Prescott AZ Cabin Rentals
Prescott AZ Campgrounds