Kinnikinick Lake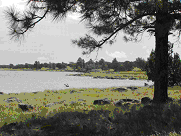 Kinnikinick Lake, 38 miles south of Flagstaff is one of those small remote lakes that is relatively easy to get to. With the San Francisco Peaks on the horizon, you can camp and fish for trout. Prairies of juniper pine surround Kinnikinick that typically abound with Pronghorn Antelope. Bald eagles are often seen during the fall and winter months. Kinnikinick is not a crowded lake so it's a good tranquil place to enjoy the outdoors. Elevation is 7,000 feet with cool refreshing summer temperatures that rarely reach 90 degrees Fahrenheit.
Fishing At Kinnikinick Lake
Trout is what you'll find here.
Boating, Camping and Facilities
Campground with 18 single-unit campsites with tables, fire rings, and cooking grills, Toilets are located at the campground.
Season and Fees
Campground season runs from May 4 through mid-October when fees apply. Free camping is permitted during the off season after the campgrounds close. Drinking water is available for campground guests only when the campground is in open season.. Boat motor size is limited to a single 10 horsepower motor.
When the campground is closed for the season, the public may still enjoy it for camping and day use but no facilities will be available. Camping is not permitted outside the campground within a one-mile radius. During the winter months the access may be terminated due to weather conditions that make roads impassable.
Getting To Kinnikinick Lake
From Flagstaff, exit east on Lake Mary Road and drive about 30 miles. Turn east on FR125 and drive 4 miles to FR 82 and then turn southeast for a 5.5 mile drive to the campground. Roads are paved and then graveled.
More Information
Mormon Lake Ranger District
4825 S. Lake Mary Road
Flagstaff AZ 86001
(928) 774-1147
Kinnikinick Lake Area Map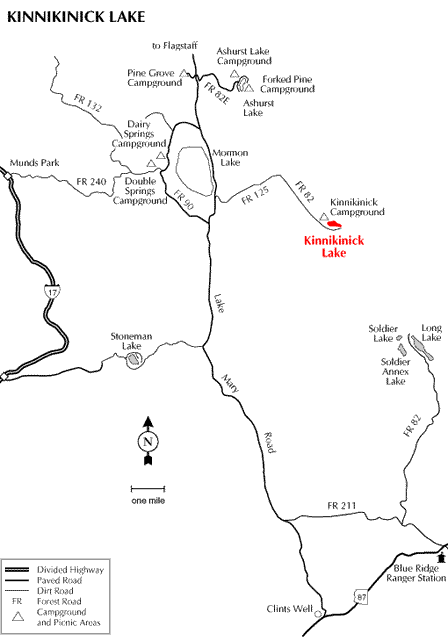 Map compliments of Coconino National Forest