South Mountain Park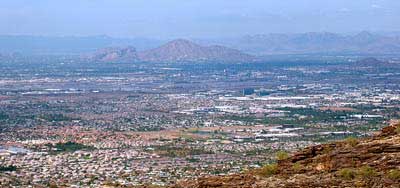 View of Camelback Mountain From Dobbin's Lookout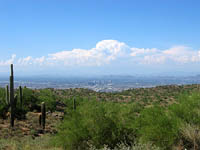 View From South Mountain
With close to 17,000 acres, South Mountain Park is the world's largest city park. It's one of the Phoenix icons like "Camelback Mountain" and "Superstition Mountain". From a distance, South Mountain looks like one big dead mountain, but those that hike it realize that it features some gorgeous scenery and great horizon views in all directions. South Mountain features some of the most popular urban hiking and biking trails in the city and also very enjoyable horseback riding. The mountain is 11 miles across and is home to more than 150 animal species and two mountain ranges including "Ma Ha Range" and "Guadalupe Range".
There's A Lot of Ancient History Here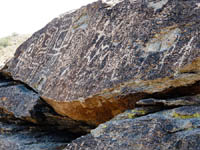 Petroglpyh At South Mountain Park
The ancient Hohokam Indians and possibly prehistoric peoples before them roamed this area as evidenced by the petrogyphs carved into rocks almost everywhere you look. Enjoy these artifacts left as a gift by the ancient Native Americans and try to imagine what life was like thousands and thousands of years ago. Ruins of stone structures also speak of other people in another time. Please don't touch the petroglyphs. They have been worn down through human touching and we all want to protect these relics to be enjoyed by future generations.
The Mystery Castle
Located within the park's foothills is the famed Mystery Castle. This dwelling is home to the founder's daughter. The structure is a conglomeration of stone, adobe, cement, and some say goat milk that forms a castle-like home. Built for by Boyce Gulley during the 1930s for his daughter, the home's interior is no longer open for tours, but many visitors still marvel at the exterior view.
South Mountain Picnic Areas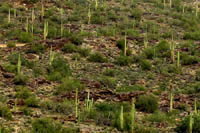 South Mountain Park Cactus
There are over 50 miles of hiking, biking and equestrian trials and more than 2 million visitors trek this mountain preserve every year. But whether you hike or just want to picnic and enjoy the scenery and the great outdoors, the park has many large and small ramada covered picnic areas that include picnic tables, barbecue grills and restrooms. The smaller group areas are available on a first-come basis. Larger group areas, one of which will accommodate 5,000 people must be reserved in advance. There are even concrete dance floors. Although some areas permit alcohol and music entertainment by permit, a couple of areas do prohibit alcohol and music. The views across the Valley below are incredible from these view points. For more information and reservations, call (602) 534-6324 or visit the South Mountain Environment Education Center at 10409 South Central Avenue.
Scenic Drives at South Mountain
There are several scenic drives that originate from the park's main entrance at Central Avenue. Just take Central Avenue South from Baseline Road and you'll run right into the entrance. Dobbin Lookout is a scenic 5.5 mile drive. Stay on the main entrance road and it will become Summit Road.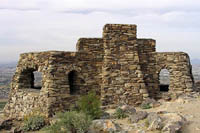 Dobbin's Lookout Point
The San Juan Road follows a valley between the two ranges at South Mountain. Stay on the main road and at the 1.5 marker, the road turns left where a marker designated San Juan Road. Follow the main entrance to Big Ramada which will reward you with the best views of the city. Find the communication towers with the red lights on top, then turn right and another right will take you to Gila Valley Lookout on the south side of the towers. From here on a clear day you can see Tempe, Chandler and Mesa. On a really clear day one can see Picacho Peak almost to Tucson, Arizona.
Horseback Riding At South Mountain
Arizona Horses Ranches (Ponderosa Stables)
10215 South Central Avenue.
(602) 276-5862
Nestled in the foothills of South Mountain Park, the largest city park in the world, Ponderosa Livery Stable offers over 50 miles of trails criss-crossing through 18,000 acres of pristine Sonoran Desert. There's more adventure here than you can imagine, exploring the vast majestic beauty under the watchful eye of our guides and riding our first rate horses. Ponderosa Livery Stable is the only guided horse rental concessionaire in South Mountain Park. We look forward to serving our out-of-town guests as well as the residents of Phoenix.
Enjoy Trail Rides, Breakfast Rides, Steak Dinner Rides, Lunch Rides, and Wagon Rides
Hiking Trails At South Mountain
Mormon Trail
1.1 Miles
Moderate to difficult.
1,000 feet
5:30 AM to 7:30 PM
24th Street and Valley View Avenue (South of Baseline Road)
Beverly Canyon Trail
1.5 Miles
Easy to moderate
8800 South 48th Street (South of Baseline Road)
Javelina Canyon Trail
1.7 Miles
Easy to moderate
South 46th Street (South of Baseline Road)
Pima Canyon National Trail
14.3 Miles
Moderate to difficult. Horses not recommended
5:00 AM to 7:00 PM
9904 South 48th Street & Guadalupe Road
Desert Classic Trail
9 Miles
Moderate to difficult
5:00 AM to 7:00 PM
9904 South 48th Street & Guadalupe Road
Telegraph Pass Trail
1.5 Miles
Easy to moderate
5:00 AM to 7:00 PM
North of Desert Foothills Parkway & 6th Street
Holbert Trail
2.5 Miles
Difficult. Steep and long
Left of the Main Entrance at Central Avenue
Kiwanis Trail
1.0 Mile
Moderate. Steep towards the end
Left of Main Entrance on Central Avenue
Ranger Trail
1.4 Miles. One way.
Moderate. Steep switchbacks toward top end
Left at 1 mile marker through Main Central Avenue entrance
Bajada Trail
2.0 Miles
Easy to moderate
Closes at sunset
Drive about 2 miles from Main Central Avenue entrance. Turn right toward San Juan Valley. Turn left into gravel parking lot at the 2.5 marker.
Alta Trail
4.5 Miles
Very difficult, Very steep. Not recommended for horses or bikes.
Closes at sunset
Same parking lot as Bajada Trail
South Mountain Hiking Trail Map
Compliments of Phoenix Parks
More Information
Photos from South Mountain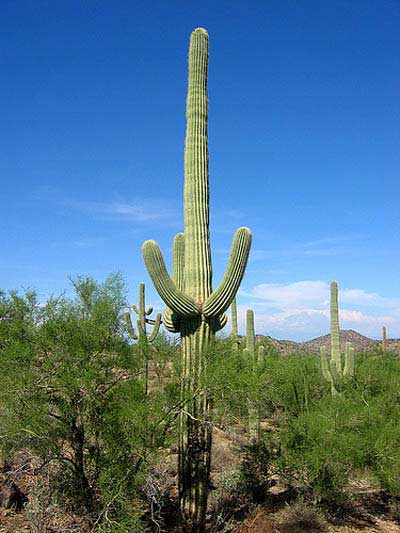 Stately Saguaro Cactus at the Park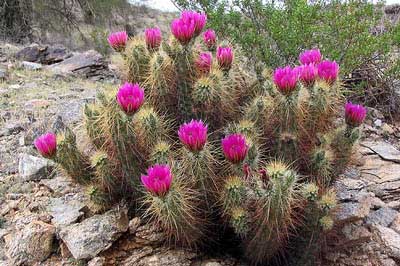 Cactus Bloom at the Park
*All photos Creative Commons
Other Greater Phoenix AZ Area Hiking Trails
Camelback Mountain
Papago Park
Piestewa Peak
South Mountain Park
Related Phoenix Interest
Phoenix Arizona
Camelback Mountain
Desert Botanical Garden
Greater Phoenix Map
Greater Phoenix Things To Do
Japanese Friendship Garden
Mystery Castle
Hiking Papago Park
Phoenix Area Attractions
Phoenix Area Museums
Phoenix Arts & Theatre
Phoenix Bed & Breakfasts
Phoenix Boat Rentals
Phoenix Boat Tours
Phoenix Dude Ranches
Phoenix Events & Festivals
Phoenix Fishing Guides
Phoenix Grand Canyon Tours
Phoenix Horseback Riding
Phoenix Restaurants
Phoenix To South Rim
Phoenix Weather Info
Phoenix Zoo
Piestewa Peak Hiking
Rawhide Western Town
Roosevelt Lake Map & Directions
South Mountain Park
Metro Phoenix