Most people do not expect Arizona to be like this. The landscape of the White Mountains of Arizona is very similar to that found in the Pacific Northwest or Canada. The Arizona White Mountains area of Northeast Arizona is mountain country. Thick forests of spruce, oak and aspen trees, Streams that meander through meadows of wildflowers bounding with wildlife.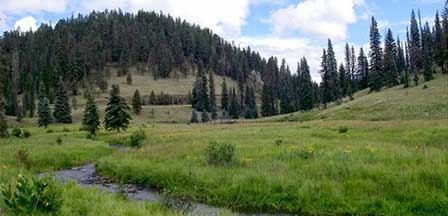 Most Popular White Mountain Destinations
The White Mountains is a four-season wonderland. Intoxicating beauty in all seasons. A beauty that feeds the adrenalin of the adventurous who thirst for the fresh aroma of the great outdoors. Emerging wildflowers come springtime. Cool summers that entice bikers, hikers and golfers. Golden colors of autumn that crescendo into cold winters covered with snow.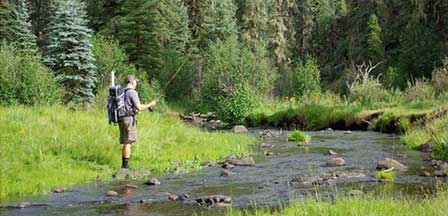 High elevation peaks rising to over 11,000 feet. Temperatures that average 25 to 35 degrees cooler than the desert regions to the south. A collection of mountain lakes in every direction offering fishing and camping areas. Hiking deep into wilderness areas. Even a ski resort that rivals many. All this just a three-hour drive from Phoenix and Scottsdale.
White Mountains
White Mountains Distance Guide
White Mountains Dude Ranches
White Mountains Trail System
Show Low Arizona. The tourism capital of the White Mountains. Created in 1870. Sets at an elevation of 6,331 feet and located about 175 miles from Phoenix and about 195 miles from Tucson. How it got its name Show Low. Two adversarial residents, C.E. Cooley and Marion Clark mutually agreed that one had to move out of the settlement.
A game of cards would decide who would leave the area. Each was dealt a card and the low card would win. Cooley turned up the two of clubs. True to his word, Clark moved. Cooley, owner of a local ranch ultimately named the area "Show Low". Its main street is now named "Deuce of Clubs".
Pinetop-Lakeside. The twin communities of Pinetop and Lakeside were respectively founded in the 1880s and 1890s. The two settlements were incorporated as a single town in 1984. Located just 12 miles from Show Low, Pinetop-Lakeside share the role as the center of tourism of the White Mountains area.
They are surrounded by the vast White Mountains, the Apache-Sitgreaves National Forest, and the White Mountain Apache Indian Reservation. The Hon-Dah Casino Resort, a short drive away and features gambling, hotel rooms, entertainment and an RV park.
Greer Arizona. Greer is alpine beauty. An incredible haven of year-round activity and outdoor adventure. A vacationer's getaway and favorite escape for the desert dwellers seeking the cool temperatures in Greer AZ where high daily temperatures average 77 degrees from May to September.
Pine-scented air. Over 630 miles of trout streams. A beckoning 22 trout lakes within 30 miles of Greer AZ. The shimmering Little Colorado River snakes through incredible landscape perfect for hiking. Daily sightings of elk and deer are commonplace.
Springerville Arizona. Springerville AZ lies toward the eastern end of the White Mountains in an area known as Round Valley. Founded in 1879, it sprouted from Springer's Trading Post from which it got its name. The historic scenic Coronado Trail begins at Springerville as it winds 120 miles south to Clifton, Arizona.
Alpine Arizona. Located just south of Springerville, Alpine matches its name with a "Swiss-like" setting. Its major attraction is serene beauty. Vacationers are greeted by amazing panoramas of mountain slopes covered with thick forests. Views are simply captivating making it the perfect place to spend the day, a week, or a month.
Snowflake/Taylor. The two towns are so close to each other, most consider them the same community. Founded in 1878, Snowflake was named after its founders, Apostle Eratus Snow and Mormon land agent William Flake. The twin towns set at an elevation of about 5,600 feet and are bordered by the Mogollon Rim and the White Mountains. Snowflake and Taylor is an area of great contrast - barren desert to the north and mountain ranges to the south.
Hannagan Meadow. Hannagan Meadow is approximately 22 miles south of Alpine, located on the historic Coronado Trail. Anchor of the area is the Hannagan Meadow Lodge, which has been operating cabins and a bed-and-breakfast under U.S. Forest Service permit since 1926.
Because of its high elevation at 9100 feet, Hannagan Meadow frequently has both the first and last snow each year in Arizona. Outdoor recreation includes horseback riding, hiking, fishing, camping, hunting, cross-country skiing, snowmobile touring, snowshoeing and mountain biking.
Hannagan Meadow has a rich Eastern Arizona, beginning in 1926 with a huge two-day celebration for the dedication of the Coronado Trail. It is the site of the Mexican Gray Wolf Endangered Species Reintroduction program which was instituted in 1997.
Payson Arizona. Payson AZ actually is not in the White Mountains but is a popular getaway destination about midway between the Phoenix area and the White Mountains. It shares the similar landscape beauty with White Mountains. Payson is an outdoor adventure paradise with an abundance of remote mountain lakes, hiking trails, and camping.