Mogollon Rim lakes share a common beauty and Bear Canyon Lake is no exception. It sets at an elevation of 7,600 feet and the scenic drive along Rim Road features several lookout points with awesome views. Bear Canyon Lake is somewhat remote and its camping area is undeveloped and primitive. But that adds to it quiet charm.
Bear Canyon Lake and camping area are surrounded by aspen trees, tall pines and blue spruce that run right to the edges of the lake. This indeed a place to relax and unwind from the stress of the big city in cool refreshing high-mountain country air. Although visitation can be moderately heavy during peak summer weekends, the entire area oozes of solitude and tranquility.
When you get there, park where you want and set up camp is you plan on camping. Getting to the lake from the parking area is about a quarter mile hike, so carrying a boat may be inconvenient. It may be wise to take a float tube or fish from shore. Again, Bear Canyon elevation is about 7,600 feet so summer high temperatures will be in the high 70s or low 80s.
Season. Opens in May. Access is limited during from November to May due to heavy snow. Even in the summer, night can be chilly and temperature diminish gradually as it gets closer to autumn.
What To Expect At Bear Canyon Lake
About Bear Canyon Lake. It is a canyon-bound lake that is narrow but when full its maximum depth is about 50 feet. Water surface is about 60 acres.
Boating and Fishing. Boats are restricted to electric motors only. The lake is stocked with with rainbow trout about 6 times a year. Live bait is not permitted. Bag limit is 6 trout and Arizona fishing license laws apply.
Camping and Amenities. Camping is considered undeveloped. There is no drinking water or tables. There vault toilets seasonally. There is no garbage service. What you bring in must be taken out. Fires are prohibited when fire restriction are in effect. The parking lot is paved. There is no entry or camping fee.
Map Location of Bear Canyon Lake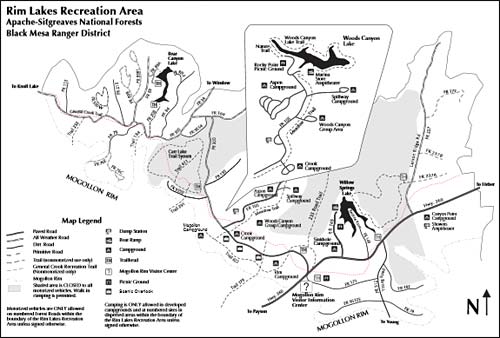 Directions On Getting To Bear Canyon Lake
From Payson. Take Highway 260 northeast. Near Mile Post 291, travel west on Forest Road 300 (Rim Road) for about 12 miles. FR 300 is paved for about 3 miles to the Woods Canyon Lake turnoff where it turns to gravel. Take Forest Road 89 north for about 2 miles, then turn right onto Forest Road 89A to one of the two lake access points.
More Information
Season changes, guideline rules, fee frequently change without prior notice,
Apacche-Sitgreaves National Forest
Black Mesa Ranger District
2748 East AZ 260
Overgaard, Arizona 86933
Relevant Reading