Grand Canyon South Rim
The Most Visited Attraction In AZ.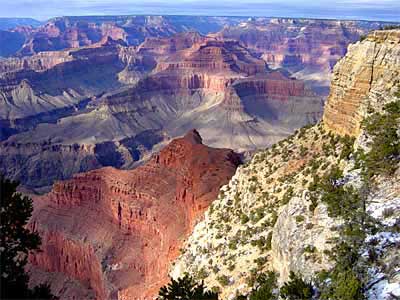 The South Rim of the Grand Canyon attracts over 5 million visitors each year and by far is the most visited side of the Canyon. That's because it is the most accessible and provides the most amenities. As with all sides of the Canyon, the South Rim features astounding views of what took Mother Nature millions and millions of years to create. That why it has earned the distinction as one of the world's Seven Wonders.
Particularly during summer vacation months, visitors should expect heavy traffic and parking problems. If you want to avoid crowds, the best time to visit is from November through February. During the winter, heavy snow at the high altitude could be a travel consideration. However, the views of the Canyon dusted with snow is a spectacularly beautiful sight.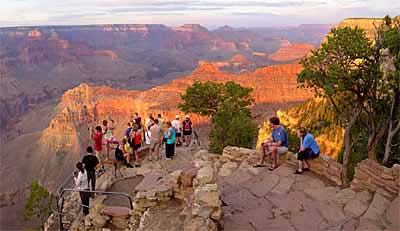 The Canyon South Rim is only 60 miles north of Williams, Arizona on State Route 64 and about 90 miles northwest of Flagstaff, Arizona on Highway 180 to SR 64. There are hotels at the Grand Canyon South Rim area, but many visitors prefer hotels in Williams or Flagstaff hotels.
Getting Around At The South Rim.
The village of Tusayan is located two miles south of the park boundary and has an airport, shops, hotels, an IMAX cinema and a large, affordable RV park.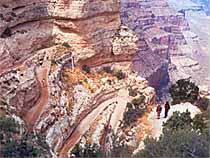 Canyon View Information Plaza is the park's visitor facility. Here you will find the Canyon View Center, a large bookstore, and ample restrooms, all within a short walk of Mather Point. When you arrive at the Rim, park your vehicle at one of the many parking areas and take advantage of the free shuttles. Each parking lot has a shuttle stop nearby. The shuttle system has three main non-overlapping routes: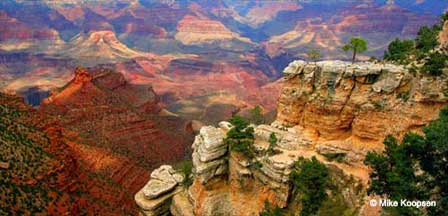 1. Village Route. This shuttle explores the developed areas including Grand Canyon Village, hotels, restaurants, and the Visitor Center as well as various viewing points to gaze across the magnificent panoramas.
2. Hermit Rest Route. Choose this shuttle to explore about 8 miles of the South Rim just west of Grand Canyon Village.
3. Kaibab Trail Route. Kaibab Trail Route – This shuttle goes to Yaki Point and explores the South Kaibab Trail.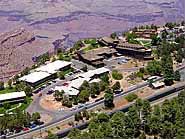 You can get off at any shuttle stop and explore the area as long as you want, catching another shuttle later. Shuttles operate continuously starting before dawn and winding down just after sunset.
Those with motor homes should head to Parking Lot E and locate the Backcountry Information Center. There, you'll find large, pull-through spaces that are perfect for accommodating your RV.
Drive Along The Rim.
If you prefer to drive your own vehicle along the rim, there are many overlooks accessible by car that offer spectacular views of the Canyon. Make your way to Desert View Drive which follows closely along the Rim for 26 miles (42 km) east of Grand Canyon Village to Desert View which is the East Rim Entrance to the South Rim.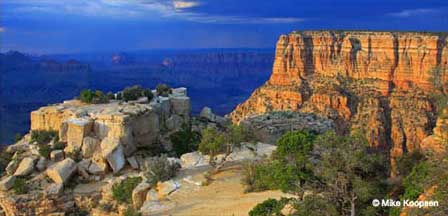 Desert View Drive is open to private vehicles throughout the year. Hermit Road follows the rim for 8 miles (13 km) west from Grand Canyon Village to Hermits Rest. Hermit Road is closed to private vehicles much of the year, but the park shuttle bus provides transportation to the overlooks year-round.
Hiking Trails And Popular View Points.
Mather's Point is the first viewpoint you'll come across and is also one of the most crowded. While it's the first, it's not necessarily the best, especially if you can't find a parking spot. As an alternative, head to Yavapai Point which is about a half mile away or Park Headquarters which is about one mile away. The advantage of these two viewpoints is that in addition to the view, you also get access to free shuttle buses and rest rooms.
A hiking trail, known as the Rim Trail, follows the rim from Pipe Creek Vista to Hermits Rest. The section of the Rim Trail between Pipe Creek Vista and Maricopa Point is paved, and mostly wheelchair accessible. Unpaved portions of the trail, between Maricopa Point and Hermits Rest, are narrow and close to the edge. Bicycles are not permitted on the Rim Trail.
Yavapai Observation Station at Yavapai Point offers panoramic views of the canyon, including the Colorado River and Phantom Ranch.
For viewing and photographing the canyon, the best light is early or late in the day. Midday sun tends to flatten the view and soften the colors. Remember that days are short in the winter and long in the summer. If you plan to see the canyon at sunrise or sunset, it is recommended that you be on the rim at least an hour before sunset or sunrise.
The Colorado River flows along the bottom of the canyon, 5000 feet/1524 m below the rim. Because of the enormous depth of Grand Canyon, the river is visible only from certain viewpoints. It is a two-day hike to the river and back from the South Rim. It is possible to drive to the Colorado River at Lees Ferry (near Marble Canyon, Arizona), but it is about a 2.5 hour one drive from the South Rim. Lees Ferry marks the official beginning of Grand Canyon.
Grand Canyon Railway.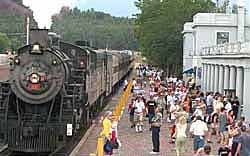 Another way to get to the Grand Canyon is to climb aboard the Grand Canyon Railway. This vintage train departs from the town of Williams and takes you on a journey back in time. This train service has been operating since 1901. Now you can book a hotel in Williams and climb aboard a restored train and see the sights along the way to the Grand Canyon just as tourists did a century ago.
Lodging at the South Rim.
Grand Canyon Village offers a variety of lodging options for just about any vacation budget including hotels such as El Tovar, Bright Angel, Phantom Ranch, Kachina Lodge, Thunderbird Lodge, Maswik Lodge, and Yavapai Lodge as well as several campgrounds.
Camping in the South Rim.
Camping along the South Rim is possible at several campgrounds located inside the park including the year-round Mather Campground, Trailer Village, and Desert View Campground. You will pay an additional fee in addition to the park entrance fee.
Mather Campground is located in Grand Canyon Village offering sites without hookups for tents, motor homes (under 30 feet), and trailers (under 30 feet). If you have a larger motor home or RV or if you want hookups, go to the Trailer Village Campground instead. It's located next door to Mather Campground. Both campgrounds accept reservations.
Contact Mather at 1-877-444-6777 or Trailer Village at 1-888-297-2757.
Desert View Campground is open seasonally from May to mid-October. This campground is located about 26 miles east of Grand Canyon Village and is mainly designed for tents and small trailers (30 feet maximum). Only a few sites can even accommodate a small motor home and none offer hookups. In addition, this campground is a first-come, first-served campground.
Park Entrance Fees.
Single-visit entrance fees are good for seven days and are charged either by the carload or individually. The vehicle pass costs $25. The individual pass for pedestrians, bicyclists, and motorcyclists costs $12. As part of the National Parks system, the Grand Canyon National Park also accepts National Park Passes, Hologram upgrade, Golden Age Passports, and Golden Access Passports. Fees are subject to change without prior notice.
Directions to the South Rim.
The South Rim is about 60 miles north of Williams and 90 miles northwest of Flagstaff, Arizona of which both are considered the Gateways to the Grand Canyon South Rim.
From Williams. Take I-40 to Route 64 and head north about 63 miles.
From Flagstaff. There are 3 ways to the South Rim from Flagstaff about 80 miles.
1. Take Hwy 180 West to Route 64 and head north.
2. Take I-40 West to Williams. Take Route 64 and head north.
3. Take Highway 89 North to Route 64 West to the Desert View East Entrance.
From Phoenix. Take I-17 North to Flagstaff. Then follow Flagstaff directions. About 230 miles total.
From Sedona. Take Highway 89A North to I-40. Then follow Flagstaff directions. About 119 miles total.
From Las Vegas. Take Highway 93 south to I-40. Take I-40 east to Highway 64. Take Highway 64 north directly to the South Rim. About 278 miles total.
Grand Canyon Airport. The Grand Canyon Airport is just south of the park and has limited service from Las Vegas.
Flagstaff Shuttle. Flagstaff Express Shuttle offers shuttle service to and from Grand Canyon.
South Rim Detailed Maps.
Map of Entire Grand Canyon
Map of the Grand Canyon South Rim Area
South Rim Transit Map
Desert View Drive Map
South Rim Directional Map.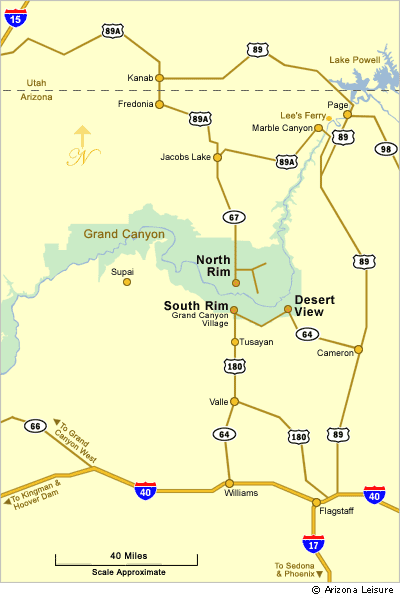 Convenient Hotels and Motels.
Hotels at the Grand Canyon
Flagstaff Bed & Breakfast Inns

More Information.
Grand Canyon National Park Service
Grand Canyon South Rim Pictures
The Spectacular Grand Canyon