It's been said that Metro Phoenix and Scottsdale have more boats per capita than any other major US city. We can't verify that statistic, but you will be amazed at the number of boats you will see in the greater area. Phoenix is well known for its magnificent desert landscape, but few people outside the area know about the many scenic lakes within a 40 mile drive from Phoenix AZ.
Canyon Lake. © Robert Body
Phoenix area lakes offer vast, clear surface water created by the rivers feeding the Phoenix area. Each of the Phoenix lakes offers an abundance of lake fun including boating, sailing, and fishing, water skiing, swimming and camping enjoyment. Some lakes offer RV parks for traveler convenience. Some lakes offer picturesque mountainous scenery, large stands of Saguaro Cactus with beautiful desert views with spectacular wildflowers during the spring.
The colorful painted canyon walls of Canyon, Saguaro and Apache Lakes are stunningly spectacular. It's not unusual to find natural springs flowing along their hiking trails. At large Lake Pleasant look for the wild roaming burros. Apache Lake is abundant with wildlife including javelina , mountain sheep, soaring eagles, deer and an occasional black bear.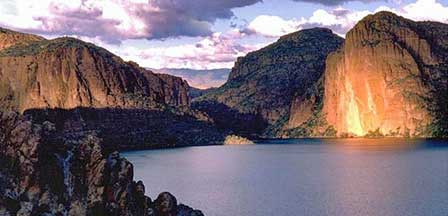 If you are an avid fisherman, the Phoenix lakes offer some of the best bass fishing in the country. Expect the largemouth, small mouth and white bass excitement. A trophy catch is waiting at the blue water lakes near Phoenix Arizona.
Lake Pleasant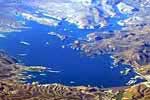 A short scenic drive 45 minutes from downtown Phoenix is the second largest of the Phoenix area lakes offering over 10,000 acres of fresh, clear blue water. Located in the vast Lake Pleasant Regional Park just north of Sun City and West Phoenix, Lake Pleasant is filled by the Agua Fria River flowing from the north cool country of Northern Arizona. Lake Pleasant provides marina facilities, large boat ramps, campgrounds and RV parks. Read more about Lake Pleasant
Saguaro Lake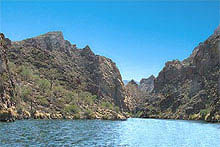 Picturesque Saguaro Lake is about 40 miles northeast of Phoenix and the Scottsdale area. Saguaro Lake offers special views, canyon walls and excellent boating fun. The Saguaro Lake Marina offers boat mooring, boat rentals, a restaurant and picnic facilities. Saguaro Lake is a sister lake of Canyon, Apache and Roosevelt Lake which are all created along the Salt River which becomes a dry river bed as it flows through Phoenix.Read more about Saguaro Lake
Canyon Lake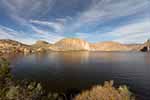 Just northeast of Mesa and Apache Junction Arizona about 40 miles from the Phoenix area, Canyon Lake offers the most spectacular canyon walls. Canyon Lake lies in the Superstition Mountain area and is the gateway to the Apache Trail leading to both Apache Lake and Roosevelt Lake. This entire area features amazing views and very scenic hiking. Read more about Canyon Lake
Apache Lake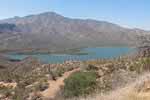 Apache Lake is a relatively short drive up the very scenic Apache Trail from Canyon Lake. High canyon walls and deep luscious mountain valleys accent one of the most beautiful landscapes in Arizona. There are several miles of dirt road leading to Apache Lake but is assessable to everyday automobiles. Apache Lake is surrounded by the Superstition Wilderness, home of picturesque Superstition Mountain and the Legend of The Lost Dutchman's gold mine. Apace Lake Marina and Resort provides a multitude of amenity services. Read more about Apache Lake
Roosevelt Lake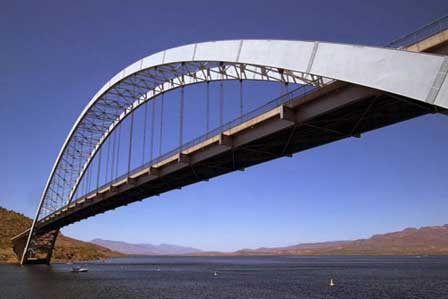 Bridge Over Roosevelt Lake. © Alan Stark
Roosevelt Lake lies above Apache Lake up the Apache Trail and is the farthest from the Phoenix area cities. But it is the largest of the lakes within one and one half hour driving distance of Phoenix and the Valley of the Sun at over 17 miles in length. Roosevelt Lake was formed in 1911 with the construction of Roosevelt Dam on the Salt River. Today about 10 miles of the original river is beneath lake waters. Lake Roosevelt offers marina features, camping grounds and nearby motels and RV parks. Read more about Roosevelt Lake.
Bartlett Lake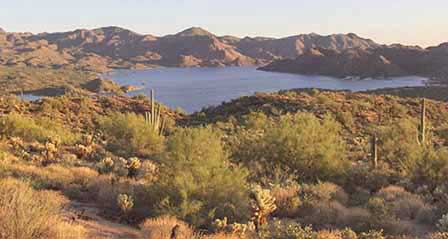 Bartlett Lake Near Phoenix. Kelly De Lay Creative Commons
Bartlett Lake is noted for its spectacular views of surrounding desert mountains and Saguaro-studded foothills. In the spring when cactus are in bloom and wildflowers dot the landscape, Formed by Bartlett Dam and fed by the Verde River, these pristine waters are very popular favorites among water recreation enthusiasts.