Sedona Weather and Average Temperatures
The elevation of Sedona, AZ is about 4,500 feet. Driving up Oak Creek Canyon from Sedona the elevation gains 2,000 feet from the bottom to the top of the rim on Highway 89A towards Flagstaff. The weather chart below reflects average high and low temperatures in Sedona but does not account for the elevation gain up Oak Creek Canyon. The higher the elevation, the cooler the temperatures.
Current Temperature and Weather in Sedona, Arizona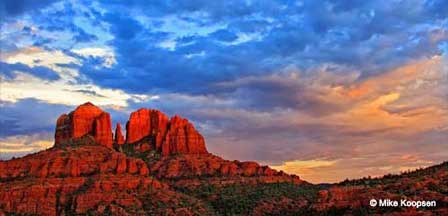 Sedona Average Temperatures
Our Sedona weather chart shows average high and low temperatures for each month of the year. It also shows average rainfall, sunrise times, and sunset times. Day time temperatures are generally pleasant all year, but nighttime lows can get below freezing from late November through mid-March. All temperatures are Fahrenheit.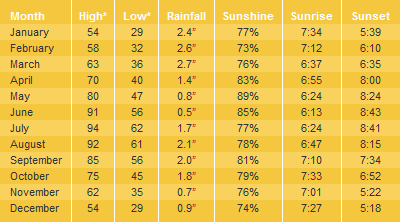 Spring. From March through May high temperatures range from the 60s to low 80s. It is the perfect time for hiking. Low temperatures will range in the high 30s to high 40s, so it can get a bit chilly as the sun recedes.
Summer. From June through September high temperatures range from the high 80s to mid-90s. Low nighttime temperatures drop into the high 50s to low 60s making for very comfortable evenings.
Fall. High temperatures fall to the mid 70s during October. November highs drop into the low 60s. Oak Creek Canyon is beautiful with the arrival of the golden colors of Autumn.
Winter. High temperatures from December through early March will average in the low 50s to 60s, but nighttime lows can get quite cold. It will snow in the winter, but usually is just a dusting and will quickly melt. However, snow cover can prolong in the higher reaches of Oak Creek Canyon. A snow-covered Sedona, Arizona is spectacular.
Additional Sedona Area Information
Map & Directions Oak Creek Trail
Oak Creek Canyon Map & Directions
Oak Creek Canyon Photos By Koopsen
Oak Creek Canyon Vista Point
Sedona Aerial Photos By Koopsen
Sedona Winter Photos By Koopsen
Verde Canyon Railroad
The Wonder Of Sedona & Oak Creek