Scenic Serenity of Snowflake, Arizona
Located in the tranquil foothills of Arizona's White Mountains Range, Snowflake offers travelers a charming stay in close proximity to many of the state's most popular destinations. Named for its founders, Erastus Snow and William Flake, Snowflake actually experiences mild winters due to its lower elevation versus its sister-communities in the White Mountains Region where it is nestled within a valley. Summers, similarly, are pleasant and visitors have discovered that the downtown's quaintly historic district provide equally pleasant accommodations near many of Arizona's attractions.
The Landscape
Snowflake is uniquely situated as the northernmost community of the White Mountains region. To the south, groves of ponderosa pine give way to the majesty of the White Mountains which are filled with pristine lakes and streams as well as the alpine beauty one might expect from the mountains. The White Mountains offer travelers a reprieve from the hot desert sun that heats the rest of the state. Consequently, it is a popular retreat for vacationers far and wide. The Mogollon Rim and Sitgreaves National Forest, also located in this region, offer a plethora of beautiful sites and plenty of year-round outdoor activities.
To the north of Snowflake are still more popular Arizona destinations. The Petrified Forest National Park and the Painted Desert are less than 50 miles north of Snowflake and the various attractions of the Navajo Indian Reservation are well within driving distance from Snowflake AZ. The barren desert landscape is certainly a contrast with the Mountains to the south of Snowflake, but the geography gives the town its unique position. Monument Valley and Canyon de Chelly, premier Arizona sites, are popular day trips that Snowflake visitors take regularly.
Snowflake Attractions
The town of Snowflake was founded in 1878 and many buildings in its downtown district have been restored to reflect its quaint past. Of the 100 or so historic homes in Snowflake, forty-five have been listed on the National Register of Historic Buildings. Various tours of the buildings are offered that shed light on the architecture which boasts Victorian and gothic styles. Many of the homes show a Mormon influence as well and some have been converted into bed and breakfasts which are quite popular with visitors.
Antique shops and various annual festivals make the town itself a charming destination.
The nearby White Mountains region offer travelers a vast array of things to see and do. Hiking, camping, mountain biking, fishing, and swimming are popular summer activities. In the winter, visitors to the region can expect to find activities like skiing, snowmobiling, and even ice fishing. The unique beauty of the mountains is a wonderful place to catch wildlife in action as well. Photographers will delight in the plethora of scenic subjects to capture with their cameras. There are plenty of accommodations from campgrounds to bed and breakfasts to be found as well as hotels in Snowflake.
Directions To Snowflake
From Phoenix. Take Loop 202 East, then Arizona 87 (Beeline Highway) north to Payson, Arizona to Arizona 260. Take Arizona 260 East to Show Low. At Show Low, take Arizona 77 North to Snowflake. Total driving distance is about 195 miles.
From Interstate 40. At Holbrook, Arizona along I-40, Exit at Holbrook on Highway 77. Go South on Highway 77 to Snowflake.
Snowflake Area Map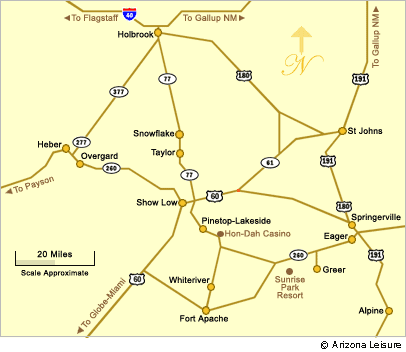 Beautiful White Mountains In Arizona