Willow Lake Prescott Arizona
Willow Lake at Willow Lake Park is located just a few miles from downtown Prescott, Arizona near Watson Lake. It is an ideal place for canoeing, kayaking and bird-watching, or just sit on the rocks of Granite Dells and enjoy views and refreshing air. Recreation includes boating, fishing, hiking and picnicking. Willow Lake has a water surface area of about 400 acres.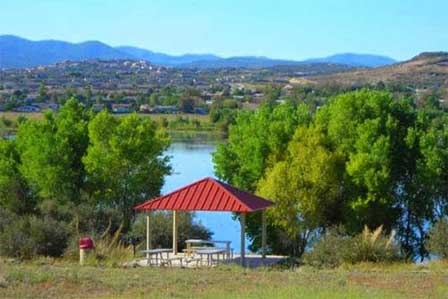 Willow Lake. © City of Prescott
Average Prescott Weather. Check the current temperature in Prescott and our Climate and Temperature Chart with average high and low temperatures by month. It includes average rainfall, sunrise and sunset times.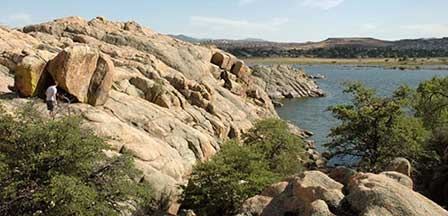 Hours of Lake Use. Open daily between 6 AM to 10 PM from Memorial Day through Labor Day and 7 AM until Sunset during the rest of the year.
Boating at Willow Lake. Only boats with electric motors are permitted along with canoes and kayaks. Canoes and kayaks may be rented at the lake.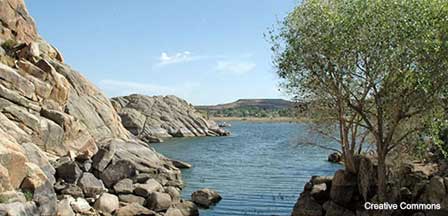 Fishing and Types of Fish. Willow Lake holds Largemouth Bass, Crappie, Catfish, Bluegill and Sunfish. State fishing licenses are required for anglers, 12 years old and above.
Hiking at Willow Lake. The hiking trail that skirts along Willow Lake's western shores connects to Watson Lake and the trails at Pioneer Park.
Swimming. Swimming in the lake is not permitted.
Picnicking at Willow Lake. Day use facilities include restrooms, ramadas, picnic tables, fish cleaning stations, boat ramp, children's playground and softball fields. Directions to Willow Lake. From the Courthouse Plaza in downtown Prescott AZ, drive north on Montezuma Street which will curve west and become Whipple Street. Then turn north in Willow Creek Road for about 4 miles to Willow Park. See Map and Directions to Prescott AZ.
More Willow Lake Information
City of Prescott Parks and Lakes
1497 Heritage Park
Prescott, Arizona 86301
(928) 777-1122
Lodging and Accommodations
Prescott AZ Bed and Breakfasts
Prescott AZ Cabin Rentals
Prescott AZ Campgrounds