Arizona Map of City and Scenic Destinations.
Our Arizona maps are displayed for your convenience. The index below this Arizona map will connect you to other Arizona Maps within this website.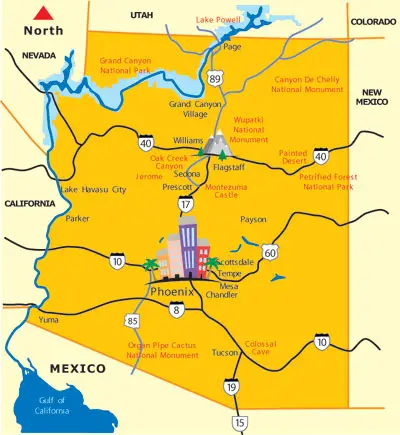 Other Arizona Maps
Arizona cities and tourist destinations in the state of the State of Arizona. Each map is copyright Arizona Leisure.com. The maps may be used for personal and educational use. Commercial usage requires prior approval. Contact us.
Apache Trail Map
Arizona Distance Map
Arizona Lakes Map
Arizona Parks Map
Canyon De Chelly Map
Chandler Area Map
Flagstaff Area Map
Greater Phoenix Area Map
Hoover Dam Map
Lake Havasu City Map
Lake Powell / Page Area Map
Mesa Area Map
Mission San Xavier del Bac Area Map
Montezuma Castle Area Map
Parker Arizona Map
Payson Arizona Map
Prescott Arizona Area Map
Scottsdale Area Map
Sedona Area Map
Tempe Area Map
Tombstone Arizona Area Map
Tucson Arizona Area Map
Yuma Arizona Map
Most Popular Things To Do In AZ
Additional Arizona Activities