Amazingly beautiful. Alpine is indeed a high mountain "alpine setting". At an elevation of over 8,000 feet, you can expect a four-season vacation experience. Cool and refreshing summer temperatures, brilliant colors in the fall, winter snowfall and meadows of wildflowers in the spring.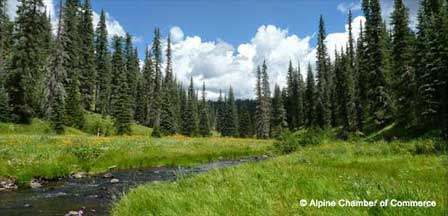 If you're looking for solitude and tranquility in high mountain country, Alpine and its surrounding area is the perfect place to leave hectic city life behind. Relax, reflect and rejuvenate. Alpine, AZ is an outdoor lover's paradise.
Alpine's attraction is its serene uncrowded beauty. Visitors are greeted by spectacular panoramas of mountain slopes covered with vast stands of pine, fir, and aspen trees. The views are captivating. Vacationers that prefer tranquility away from crowds, yet up close and personal with nature, Alpine is an ideal place to spend the day, a week or a month.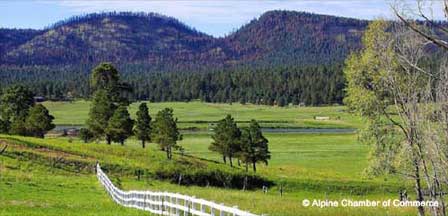 Alpine is Outdoor Adventure
Originally settled in the late 1870s, the "Swiss-like" setting of Alpine has a rustic charm situated at the headwaters of the San Francisco River and surrounded by primitive wilderness areas. Within a 30 mile radius, you'll discover more than 200 miles of trout streams and 11 mountain lakes.
Leave the stress of hectic city life behind while you fish, boat, kayak, hike, camp, horseback ride, cross-country ski or just relish the serene beauty of Alpine, AZ where wildlife abounds and bald eagles soar.
Luna Lake is but a few miles from Alpine and Big Lake is about a 20-mile drive. There are plenty of campgrounds around Alpine within the Apache-Sitgreaves National Forest in the Alpine Ranger District including Alpine Divide Campground only 4 miles from Alpine on Highway 61.
Other developed campsites and campgrounds can be found on the Black River and Blue River where the nearly extinct Mexican Grey Wolves were reintroduced to the wild. An Audubon refuge is at the Luce Ranch on the Blue River. Rock-hunters can enjoy finding Luna agate, fire agate, and quartz crystals.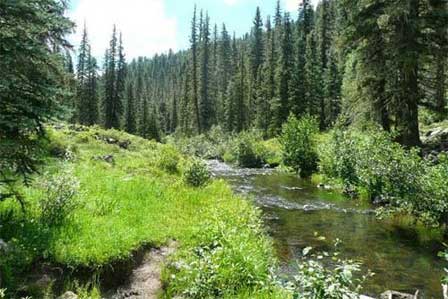 West Fork Black River. © Alpine Chamber of Commerce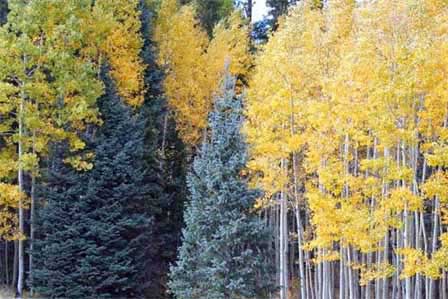 Alpine Arizona. © Dennis Swena
Map and Directions To Alpine, Arizona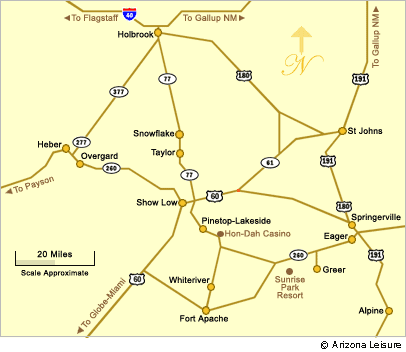 Getting to Alpine, Arizona through Show Low is the most accessible route. Alpine is about 65 miles southeast of Show Low AZ and 27 miles south of Springerville via Highway 191.
Another route to Alpine is taking the Coronado Trail (State Route 191) from Morenci, Arizona north to Alpine. The trip to Alpine via the Coronado Trail is one of the most beautiful scenic drives in Arizona. It is slow driving along many curves on the edges of deep canyons. It is also a very remote drive so be well prepared.
More Information Relating To Alpine
Alpine Chamber of Commerce
Luna Lake RV Campground
Nearby Rivers and Streams in The Area
Hiking Trails in the Alpine Ranger District
Lake and Pond Fishing in the Alpine Area
Campgrounds in the Alpine Ranger District
Related Alpine Interest
Alpine Arizona
Alpine Arizona Cabins
Alpine Arizona RV Parks
Alpine Arizona Weather
Alpine Arizona Bed & Breakfast
Hannagan RV Campground
Josh Ranch Alpine Arizona
Sprucedale Guest Ranch Alpine