Big Lake White Mountains Arizona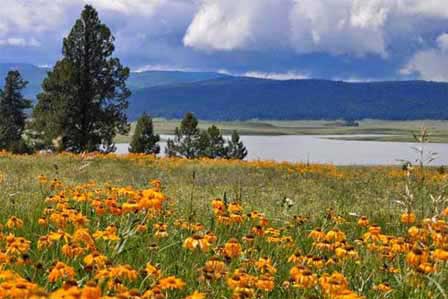 Big Lake Arizona
Location & Description. Big Lake is located about 25 miles south of Springerville, Arizona in the Arizona White Mountains. It sits at an elevation of about 9,000 feet. The temperatures are cool and refreshing during late spring, summer and early fall. The lake will freeze over beginning late November. Access is restricted in the winter (December - April) when roads are closed due to heavy snow. Big Lake is considered by many as the best fishing lake in the White Mountains area. Facilities are open mid-April to mid-November. See Springerville Weather Chart.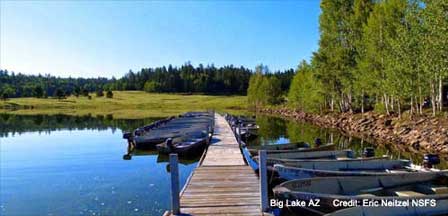 Lake Size. 532 water surface acres with an average depth of about 16 feet.
Fish Variety. Fish species include Rainbow, Brook and Cutthroat Trout. Anglers sometimes catch an occasional native Apache Trout. The lake is stocked once per year with 40,000 fingerling trout that are mostly of the Rainbow variety.
Fishing. Big Lake is popular for producing large Brook Trout during October and November. Fishing from a boat is more productive than shore fishing. Flies, lures, nightcrawlers, and Salmon eggs are permitted. Daily bag limit is six trout for licensed anglers and three for youth under 14 years without a license. State fishing license with a trout stamp is required for anglers over 13 years old.
Boating. Boat motors are restricted to electric or 10 HP or less gas motors. Boats are available for rent at the lake.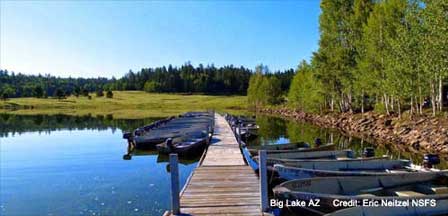 Camping, Hiking & Amenities. There are over 200 fee-based camping sites at Big Lake, two boat ramps, fish cleaning stations. picnic tables, showers, drinking water, a dump station and restrooms with flush toilets. It has a small convenience store that sells limited food, gas, fishing supplies and fishing licenses as well as boat rentals. A visitor center is open during the summer months.
Directions. From Springerville, travel west 5 miles to the Big Lake turnoff (AZ261). Travel up the mountain 18 miles to FR 113 and turn left. Travel 2 miles to the Big Lake entrance (FR115) and turn right. Follow the road all the way around the lake and take the first paved road to the right.
Nearest Lodging. The nearest hotel accommodations are hotels in Springerville and hotels in Pinetop Lakeside. Also see White Mountains Bed and Breakfasts.
More Information
Return To White Mountains Visitors Guide