Ashurst Lake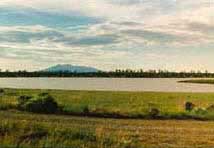 Gorgeous scenery. Cool, refreshing mountain country air. That's two good reasons to visit Ashurst Lake about 23 miles southeast of Flagstaff Arizona. Here's more reasons. Fishing for stocked rainbow and brook trout, canoeing, windsurfing, camping, hiking, mountain biking and picture perfect views of San Francisco Peaks.
This medium size Northern Arizona lake has a reputation of holding water even during long drought spells. Enjoy the canpground nearby, pitch your tent, or park your camper and throw out a lawn chair. Kickback, cast a line and try and catch a lunker. Or, just relax and enjoy the great outdoors.
Fishing At Ashurst Lake
Stocked with rainbow and brook trout.
Boating, Camping and Facilities
Choose from two campgrounds, each with 25 camp sites including picnic tables, fire rings, and cooking grills, drinking water during the summer season and vault toilets. One boat ramp for boats limited to 10 horsepower or less.
Season and Fees
Campground season runs from May 4 through mid-October when fees apply. Free camping is permitted during the off season after the campgrounds close.
Getting To Ashurst Lake
In Flagstaff, exit east on Lake Mary Road from I-17. Drive about 19 miles then go east on FR 82E for about 4 miles.
More Information
Mormon Lake Ranger District
4825 S. Lake Mary Road
Flagstaff AZ 86001
(928) 774-1147
Ashurst Lake Area Map
Map compliments of Coconino National Forest