Marble Canyon: Beginning of the Grand Canyon.
Marble Canyon, so named of its colorful rocks and cliff walls is just below Glen Canyon Dam and extends from this area of the Colorado River to the confluence with the Little Colorado River. Along with Lees Ferry, Marble Canyon marks the beginning of the Grand Canyon at its most western point.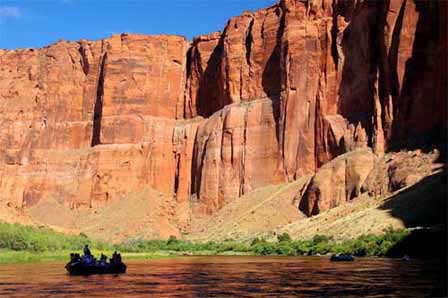 Colorado River Through Marble Canyon. © Silver Spur Tours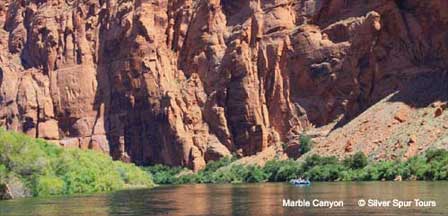 The cool waters of the Colorado River offer a stunning contrast to the ancient rock walls that rise to form the majestic Marble Canyon, a prelude to what will give way to the Grand Canyon downstream. A veritable southwestern paradise, Marble Canyon is a sightseer's delight. Located just beyond Lee's Ferry along the river, Marble Canyon is a gorgeous gateway to the one of the most extraordinary places on earth.
Lees Ferry and Marble Canyon
Lee's Ferry is a common launching point for river runners starting their journey through the Grand Canyon. Marble Canyon is also well-known for the Navajo Bridge, where US Highway 89A crosses the Colorado River.
Most river tours of Grand Canyon National Park begin at Lee's Ferry, a site on the river that boasts some of the best rainbow trout fishing in the country. About forty two miles from the town of Page, Arizona, Lee's Ferry is named for its notorious settler, John D. Lee, who established a ferry at the site in the name of The Church of Jesus Christ of Latter-Day Saints. Lee was later executed for his participation in the Mountain Meadows Massacre in 1857, but the site still bears his name. The Ferry was shut down in the 1920s when the elegant steel span of the Navajo Bridge replaced it providing a breathtaking view of the canyon below.
Exploring the Canyon
The Colorado River near Lee's Ferry is relatively calm making for peaceful rafting trips into Marble Canyon and superb trout fishing. Rafting through Marble Canyon is an unsurpassed way to glimpse the ancient canyon walls that give way to mesmerizing site after site. The water is quite cold despite the fact that is traverses desert lands, but the azure sky and Jurassic cliff walls are as peaceful as any place in the southwest.
Because the river journeys through Marble Canyon are calm, there is much to behold -from gentle water falls that spray through rock wall crevices to the unbelievable balancing rocks that seem to form stone images in thin air. There are many sites within the canyon that offer clues to past cultures that once made their home in the area-pictographs of people and animals that seem to tell their story over great leaps of time.
Sometimes travelers forget to mark this canyon expanse due to its proximity to the Grand Canyon, but its colorful rock walls are noteworthy in themselves and offer painted vistas that will captivate photographers and sightseers alike. The nearby Marble Canyon Lodge is a great place to stay, or be sure to book a tour from Lee's Ferry into the Canyon for a journey that will not disappoint!
Getting There
Marble Canyon and Lees Ferry is about a 2 hour drive form Flagstaff, Arizona. Travel north from Flagstaff on US 89 to Bitter Springs and then turn left onto US 89A and continue to Marble Canyon. Scenic Airways has flights into Page, Arizona which is nearby Marble Canyon and Lees Ferry. Contact Marble Canyon Lodge for shuttle service to and from Page. Rental cars are available in Page.
Marble Canyon Map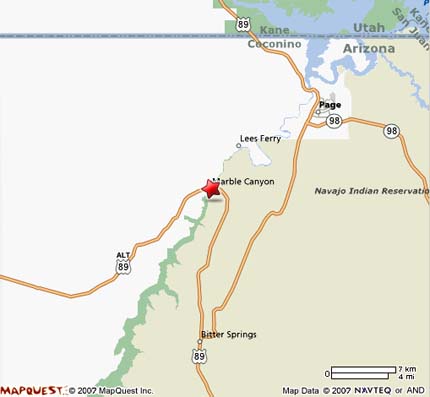 Where To Stay
Hotels in Page, AZ are nearest to both Marble Canyon and Lee's Ferry. Flagstaff AZ hotels about a 2 hour drive south on US 89. There are three lodges in the Marble Canyon and Lee's Ferry locations including Marble Canyon Lodge, Cliff Dweller's Lodge and Lees Ferry Lodge at Vermillion Cliffs.