Lynx Lake In Prescott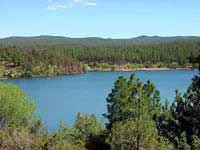 This 55-acre lake quietly sets amidst tall pines in the cool Bradshaw Mountains high country just a few miles southeast of Prescott, Arizona. Lynx Lake is a relatively small lake, yet it draws over 125,000 visitors annually. At a 5,500 foot elevation, the cool, refreshing summer temperatures attracts a great number of visitors from the Phoenix area wanting to escape the desert heat. Lynx is the centerpiece of the Prescott National Forest and features boating, fishing, camping, hiking and tranquil solitude. Swimming in the lake is prohibited. Access to the lake has been provided for the physically challenged.
Boating and Fishing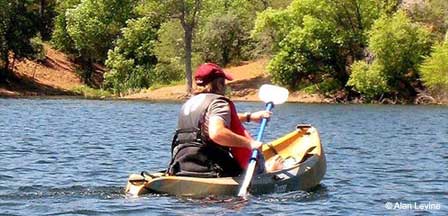 Only boats with a single engine of 10 horsepower or less are permitted on the lake, but the calm sapphire waters are ideal for kayaking, sailing and canoeing enthusiasts. Boat rentals are available at the Lynx Lake Store which features a cafe. The store is only open from late spring to early fall and it is always closed on Mondays.
Anglers enjoy a wide variety of fish including Rainbow Trout, Largemouth Bass, Crappie and Catfish. An Arizona fishing license and a trout stamp is required for those older than 13 years of age. Bag limits are 6 trout and 6 bass per day but unlimited on crappie and catfish.
Day Use Facilities, Camping & Recreation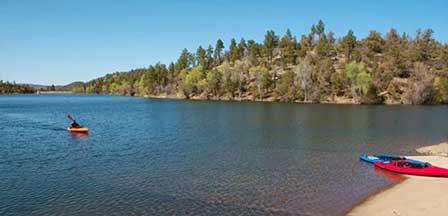 Picnic areas are provided on both the South and North Shores of Lynx Lake and include tables and grills. Or you can just walk along the Lakeshore Trail until you find a nice spot to spread a blanket. To preserve the natural environment, all trash must be taken out.
The Lynx Campground, just west of the lake, has 39 sites, and the Hilltop Campground, about a quarter of a mile south of the lake, has 38 camping sites. Each campground has toilets and drinking water, but no hookups. Nominal fees apply on a first come basis.The campgrounds are open April through October, and they have a seven-day stay limit per 60-day period.
Hiking At Lynx Lake
The 2- mile Lakeshore Trail loops around the lake and features stunning views. The trail meanders around the lake through the forest and is a fairly easy hike. Much of the trail is suitable for wheel chairs and strollers. Be careful since some portions can be steep.
Pan For Gold
Near the Salida Gultch Trailhead along Lynx Creek there is a designated gold panning area that is open to the public. Bring you own pan. Motorized equipment is prohibited and any all holes must be backfilled.
Directions To Lynx Lake
Lynx Lake is just a few miles from Prescott which is about 112 miles north of Phoenix and about 50 miles south of Flagstaff. From Interstate 17, exit west on Arizona Route 69 toward Prescott. Before reaching Prescott, turn left (south) on Walker Road and follow the signs to Lynx Lake.
More Information
Lynx Lake Store & Marina
(928) 778-0720
Bradshaw Ranger Station
344 South Cortez Street
Prescott, AZ 86303
(928) 443-8000
Where To Stay
If you prefer a warm bed versus camping, choose among Prescott Hotels or Bed and Breakfasts in the Prescott area.