Arizona White Mountains Cabin Rentals
The four season beauty and ideal spring and summer climate in the Arizona White Mountains makes for perfect vacation getaway. Select from this convenient list of cabin rentals in the White Mountains of Arizona. Rent a cabin in high elevation pine forests surrounded by mountain lakes and streams.
Alpine cabins for rent
Greer cabins for rent
Heber-Overgard cabins for rent
Pinetop-Lakeside cabins for rent
Show Low cabins for rent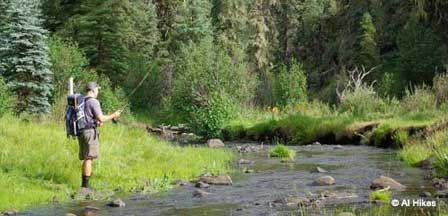 Hike and enjoy the meadows of wildflowers in the spring, Golf and horseback ride in the cool temperatures of summer. Enjoy the changing colors of fall and snow ski in the winter. All of this adventure is near the doorsteps of some of the most popular cabins and lodges in the AZ White Mountains. Also see White Mountains Bed and Breakfasts.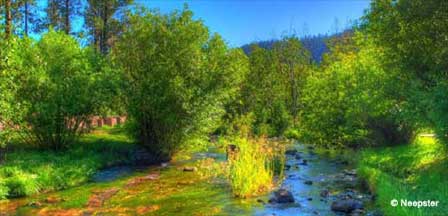 Alpine, Arizona
---
Mountain Hi Lodge
42698 US Highway 189 East
Alpine, Arizona 85920
928-330-4311
Sets at 9,000 feet of elevation on mountain slopes. With 28 rooms, it is the largest accommodations in Alpine, AZ. Every room is uniquely themed and includes breakfast and coffee Friday-Sunday. Also includes Wi-Fi Internet Access, Includes satellite television with Encore. The common picnic and barbecue area is for all guests.
Mountaiin Hi Lodge is open all year including the winter months when it provides free cross-country ski rentals. It is a great escape for the entire family. The perfect lodge for company gatherings, weddings and family reunions.
---
Coronado Trail Cabins
25304 Highway 191
Alpine, Arizona 85920
928-339-4772
Perfect for those that prefer rustic outdoor adventure within the wide open outdoors. These cabins feature just enough convenience that will balance the way things once were with a few modern amenities. Rustic cabin rentals with fully-equipped kitchens. Private bathrooms with sinks and showers. Linens and paper products always included. Smoking is not permitted.
Come, unwind. Rejuvenate in solitude up close with nature and all the amazing scenery and outdoor adventure you can handle. Located just south of Alpine, AZ on the Coronado Trail which is Highway 191.
---
Bunkhouse At Juniper Hill
67 County Road 2112
PO Box 326
Nutrioso, AZ 85932
928-339-4248
About as rustic as you can get. Located in the community of Nutriosa about 9 miles north of Alpine. This bunkhouse style 600 square foot cabin sets on 22 acres surrounded by pine and fir. Sit on the porch and catch the views of Escudilla Mountain, the third-highest mountain in Arizona. A nearby trail leads right to the top. Sorry, no pets permitted.
---
Escudilla Mountain Cabins
42679 Highway 80
Alpine, Arizona 85920
928-339-4285
Seven overnight cabins for rent in Alpine with great views of South Mountain. All cabins have kitchenettes, satellite televisions, gas log stoves, and front porches. There is one completely accessible cabin. Sorry, no pets allowed and all cabins are non-smoking.
---
Meadows Edge Cabins
25327 US Highway 191
Alpine, Arizona 85920
928-245-5558
Meadows Edge Cabins offers two non-smoking cabins for rent. Each includes a private bedroom with a queen size bed and separate full bathroom. The common area includes a queen size pull out sofa. All linens and bath towels are provided.. Each kitchenette is equipped with electric range, oven, pots, pans, dishes, refrigerator, microwave, coffeemaker and all utensils.
Outside it provides a private picnic table and charcoal grill. Guests provide their own charcoal. No wood please. A wood burning fire pit is available, weather conditions permitting. A limit of 2 pets with a non-refundable fee.
Greer, Arizona
---
Molly Butler Lodge & Cabins
(928) 735-7617
Molly Butler cabins are privately owned and each is completely unique, with a wide range of amenities and features—including gorgeous wood burning fireplaces, spacious decks with BBQ grills, Jacuzzi tubs, outdoor hot tubs, game rooms, media rooms, satellite TV, WiFi. Your favorite Greer cabin may be tucked away in the woods surrounded by fragrant Ponderosa pines or perhaps it's up on a ridge above town with sweeping vista views of the picturesque, lush Greer valley.
---
Antler Ridge Resort Cabins
87 Main Street
Greer, Arizona
(928) 735-7288
All cabins have all the comforts of home, electric heat in all rooms and wood burning fireplace in the living area. Firewood is provided at your Greer, AZ cabin. The kitchens are fully equipped with utensils, plates, pots, pans, baking dishes, drinking and wine glasses, toaster, coffee maker and microwave. All cabins have color televisions and DVD players, kitchen, bath and bed linens, dish soap, bath soap, and paper towels. Movies from its large collection can be checked out for free. Bathrooms have a tub/shower and linens.
---
East Fork Cabins
63 Forest Service Road 79
Greer, Arizona 85927
(928) 735-7585
East Fork Cabins offers you fully equipped housekeeping cabins that sleep from 6-12 persons. Ideal for your skiing retreat or summer vacation with extended family members. Each cabin includes full-size refrigerators, pots, pans, stoves, satellite television, wood burning fireplaces, and firewood. Additional amenities include toaster, coffee maker, outdoor Gas Bar-B-Que and deck furniture for your outdoor enjoyment. Dependent on your needs reserve one of our 2 bedroom one bath cabins, our 4 bedroom cabin or our "Red Cabin on the Meadow."
---
Greer Glen
142 Main Street
Greer, Arizona 86927
(520) 343-4313
Accommodations includes "The Flat", a one bedroom, 0ne bathroom that can sleep for guests and a five bedroom , three bathroom lodge that can handle22 guests. See the layouts on its website.It also features an RV Park with five spaces surrounded by picturesque meadow. It is surrounded on 3 side by the National Forest on the edge of the Little Colorado River. Only water, sewer, and electrical hookups are provided.
---
The White Mountains Lodge
140 Main Street
Greer, Arizona 86927
(520) 343-4313
The White Mountain Lodge, the first homestead in Greer, was built in 1892 as a pioneer family home. Over the years, the Greer area has become a White Mountains vacation retreat. Today this historic log cabin Lodge has been remodeled into four private suites, offering a cool summer getaway amongst the pines, aspens, lakes and rivers. Each of the suites have private entrances with the option of opening into a large area where families and friends can gather together; perfect for small and large groups alike.
---
Honeybee Lodge
10 Apache CR 1016
Greer, Arizona
(888) 297-4269
Nestled among magnificent ponderosa pines in the heart of Greer, AZ Honeybee Lodge offers a delightful escape to Arizona's fabulous White Mountains. Reserve this spacious cabin for your family, corporate retreat, wedding or special occasion! The Honeybee Lodge rental cabin provides a terrific place to catch up on old memories or create new ones. Our four season climate in the Greer valley and a myriad of outdoor and indoor activities ensures your, vacation or business stay will be unforgettable.
---
MLY Ranch
(928) 333-2396
MLY Ranch offers you a unique vacation spot year 'round just 5 miles from Greer, Arizona. Secluded log cabin rentals in the heart of Arizona's White Mountains await you. These log cabin rentals are only 200 yards from the Little Colorado River. Enjoy horseback riding, fishing, hiking, wildlife watching or just relaxing near Greer, AZ. Our vacation rental cabin accommodations are unequaled in the Greer area.
---
Sargent's Cabins
(520) 749-3637
Unlike other rentals in the area, our rental cabins are situated on one acre parcels providing privacy and the opportunity to experience the great outdoors without compacted parking, close cabin proximity or noisy resort activities. Why not experience Greer as it was meant to be enjoyed - peace, quiet and the opportunity to relax in the seclusion of a private rental cabin.
---
Red Setter Lodge & Cabins
103 Main Street
Greer, AZ 85297
(928) 735-7617
For the best in Greer lodging, The Red Setter offers options packed with rustic frontier charm and luxurious creature comforts for parties of ALL sizes—from individuals, couples and families, to large wedding parties or groups hosting special events. This beautiful riverside vacation heaven is anchored by a dreamy 9-bedroom lodge, which is flanked by 4 additional log cabins of various sizes.
---
Greer Mountain Resort
38742 Highway 373
Greer, Arizona 85927
(928) 735-7560
---
Greer Point Trails End Cabins
23 North Main Street
Greer, Arizona 85297
(928) 735-7513
---
Heber-Overgard, Arizona
---
Mogollon Resort Cabins
Mile Marker 309-310
Heber-Overgaard, AZ
877-92-CABIN
Rent a cabin from Mogollon Resort Cabins in Heber-Overgaard, Arizona and put yourself in the midst of beauty. Take advantage of Mogollon Rim country in the Arizona White Mountains. Cool refreshing temperatures in the scenic pine forests and nearby streams and mountain lakes.
---
Big Pine Cabin Resort
2268 Highway 260
Overgaard, AZ 85933
928-535-5649
---
Pinetop-Lakeside, Arizona
---
Pasut 's Pinetop Chalet. Brand New Cabin nestled among the cool pines of the Pinetop Country Club right off Highway 260. 3 bedroom, 2 1/2 bath, 2100 square feet.
---
Baiers Den. This incredibly beautiful rim and mountain country is big enough to still get away for quiet week ends, ski trips, hiking and adventures in solitude and quiet.
---
Kobey's Cozy Cabin. Ski Chalet Cabin Cottage - 3 Bedrooms and 2 Baths. Sleeps 7-11. Pinetop, Arizona, USA (Pinetop Gated Community - 20 Minutes from Sunrise Ski Resort).
---
Show Low, Arizona
---
Whispering Pines Cabin Resort
237 East White Mountain Blvd
Pinetop. Arizona 85935
926-367-4386
---
Hidden Rest Spa Cabins
3448 West White Mountain Blvd
Lakeside, Arizona 85929
928-368-6336
---
Northwoods Cabin Resort
165 East White Mountain Blvd
Pinetop, Arizona 85935
928-813-367-2966
---
Spring Hill Cabins On Rainbow Lake
928-368-8688
Show Low, Arizona
---
Pinetop Visa Cabins
Pinetop, Arizona
480-250-5398
---
Deer Springs Inn Cabins
Clay Springs, Arizona 85923
928-528-7350
---
Beautiful White Mountains In Arizona