Strawberry, Arizona
Strawberry, Arizona is a popular weekend getaway place for the desert-dwellers that escape the summer heat from the Phoenix and Scottsdale area. Strawberry sets at an elevation of about 6,000 feet which means meadows of springtime wildflowers, cool refreshing summer temperatures, brilliant autumn colors, an abundance of wildlife and tranquility. Strawberry AZ shares the pristine scenic beauty of the Mogollon Rim Country with its sister towns of Payson and Pine, Arizona. The Rim Country boasts the largest stand of Ponderosa Pine forests in the world.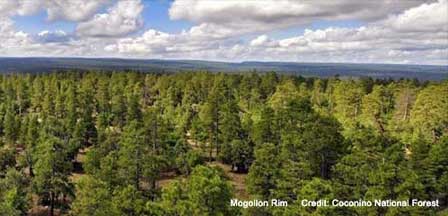 A Quick History of Strawberry
There is an aura of history here. The area of Strawberry was once home to large numbers of Native Americans like the Tonto Apaches and the Yavapai. An increased presence of soldiers in the area during the 1860s unfortunately forced the Tribes to migrate to other locations. The area eventually was resettled by Mormon settlers beginning in about 1875. They named the area "Strawberry" due to the abundance of wild strawberries that grow in the region. Gold discovery became a magnet to new settlers that embodied the pioneering spirit that is still evident in Strawberry's rustic atmosphere.
The Strawberry Experience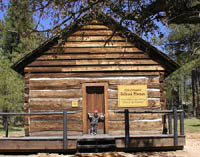 Compliments of Alan Levine
The historic charm remains today as exemplified by the oldest schoolhouse in Arizona which was built in 1885. As a relic of the old pioneering days, the Strawberry schoolhouse still stands and is a frequent stop for visitors to Strawberry. It is a must-see spot on any visit to the region.
Although the population of Strawberry is but about 2,000 very lucky residents, that number dramatically swells during the summer and weekends when vacationers flock to the area to escape the hectic pace of big city life. Many vacationers buy summer homes and cabins and make Strawberry their home away from home. Strawberry is a serene, tranquil place where outdoor lovers will enjoy the hiking trails, lush area campgrounds and fishing the mountain blue lake waters that surround the area.
Vacation Synergy of the Mogollon Rim
Strikingly scenic and pristine. Lushly green and undisturbed wildlife and tons of mountain crystal blue lake waters that are remote. Lakes like Chevelon Canyon, Woods Canyon, Bear Canyon and Black Canyon Lake.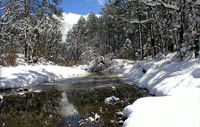 Compliments of Alan Levine
Hiking or horseback riding the network of trails around the Mogollon Rim is a rich experience filled with outstanding scenery. Be sure to take a scenic drive on the Rim Road and General Crook Trail Scenic Loop. The Woods Canyon Lake Loop also offers spectacular views. There are many places along the rim where the elevation drops by two thousand feet. These sights offer an incredible viewing experience that must be experienced on any visit to the area. One of the most scenic and historic spots in the area is the Tonto Natural Bridge which is only about 10 miles south of Strawberry, Arizona.
Many visitors prefer Strawberry over its sister communities for its rustic atmosphere. However, towns like Payson and Pine offer more amenities for travelers. In any case, visitors to this charming town will find nearby motels, rental cabins, and campgrounds for lodging.
Getting To Strawberry
Strawberry is about 100 miles north of Phoenix, 17 miles east of Payson AZ and just 3.5 miles from Pine. Depending upon travel plans, what you want to see and your origination point in the Phoenix area will determine which route to Strawberry is most convenient.
From North and West Phoenix. Take Interstate 17 North to Highway 260 which is just before reaching Camp Verde. Take 260 East to Arizona 87 and then South on 87 into Strawberry.
From Scottsdale and East Phoenix Areas. Take Highway 87 (Beeline Highway) Northeast to Payson AZ. Upon reaching Payson, stay on Highway 87 for about 16 miles to Strawberry.
Strawberry, Pine & Payson Area Map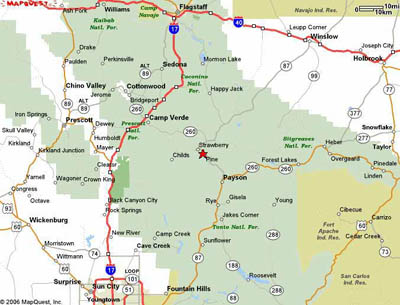 Related Payson Interest
Payson Arizona
Aspen RV Campground
Canyon Point RV Campground
Christopher Creek
Christopher Creek RV Campground
Houston Mesa RV Campground
Mogollon RV Campground
Payson Area Map
Payson Area RV Parks
Payson Bed and Breakfasts
Payson Cabin Rentals
Payson Pictures
Payson RV Campgrounds
Payson Vacation Rentals
Rim RV Campground Payson
Sinkhole RV Campground
Spillway RV Campground
Tonto Natural Bridge Park
Strawberry Arizona
Weather In Payson
Beautiful White Mountains In Arizona