Grand Canyon South Rim. © Mike Koopsen
Landscape diversity in Northern Arizona is dramatically different than the desert regions to the south. Its higher elevations bring milder temperatures averaging 15 to 30 degrees cooler than the desert urban areas of Phoenix and Scottsdale AZ. Tranquility and beauty is the hallmark of the entire state of Arizona, but Northern Arizona features unique environments that most visitors and vacationing tourists would never expect.
Like thick forests of pine, oak and aspen trees. Creeks fed by natural springs and melting snow. Sky-blue mountain lakes, snow- capped mountain peaks and unbelievably lush hiking trails such as the West Fork Oak Creek Trail at Oak Creek Canyon. The majestic San Francisco Peaks, the tallest mountain range in Arizona. The famous red rocks of Sedona and its surrounding secret canyons that hold ancient Indian ruins.
Most Popular Northern Arizona Destinations
Most Popular Attractions in Northern AZ
The most visited attractions in Arizona are located in Northern Arizona. Some are the most visited in the country and even the world. Like one of Seven Wonders, the Grand Canyon, carved over several million years by the Colorado River. Grand Canyon National Park is divided into two main sections including the Grand Canyon South Rim and the more remote Grand Canyon North Rim.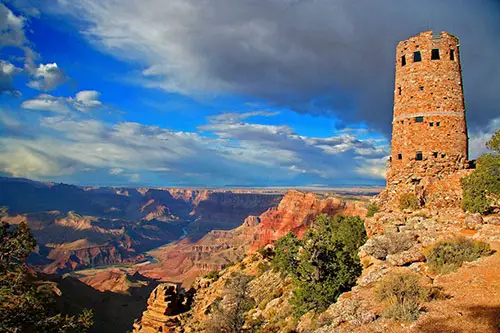 Grand Canyon Watch Tower East Rim. © Mike Koopsen
The vast Monument Valley on the Navajo Indian Reservation is perhaps the most iconic example of the American West landscape. It has been the backdrop of many movies including the western classic of Stagecoach starring John Wayne and the location of the epic run by Forrest Gump. Monument Valley is located on the Northern Arizona border with Utah.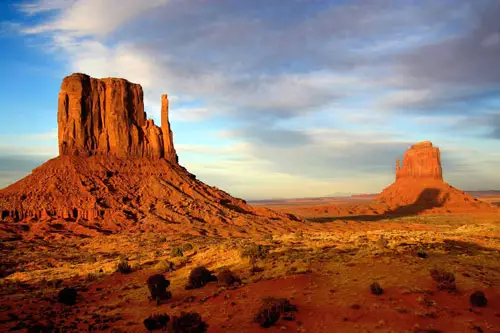 Monument Valley. © Mike Koopsen
Sedona, the second-most visited tourist attraction in Arizona behind the Grand Canyon is often considered one of the Top 10 Vacation Places in America. It is famous for its storied red rock formations and monoliths including Cathedral Rock and Bell Rock. Just north of Sedona, Arizona is Oak Creek Canyon once described as one of the Top 5 Most Scenic Drives in America by Rand McNally.
Video of Northern Arizona Images
All photographs on this page and in the video are compliments of Mike Koopsen. Prints are available.