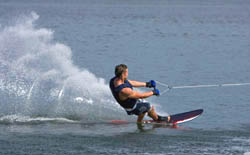 Arizona has many lakes ideal for water-skiing. For those of you that thrive on adrenaline rush, water-skiing is so exhilarating as you glide across the water at top speed. Often it's almost like flying across the water when your skis become slightly airborne, barely skimming the surface. Wind and water splash over and around you as landmarks around you fly by so quickly. Serenely quiet as you here no sounds but the water spraying out from under your skis.
It's fun for the whole family and a great way to relieve stress and fun way to to exercise. Learning to water ski takes practice, but more important, it takes the right equipment, skis and gear. Most of the lakes below rent water-skis, but be sure to call ahead to be sure. Most lakes also rent boats, jet-skis, tubes, and other types of watercraft.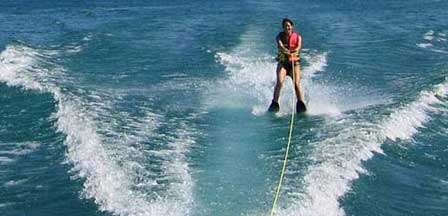 Best Lakes For Water-Skiing in Arizona
Phoenix/Scottsdale Area. The Valley of the Sun features some great lakes within close driving distance of the Phoenix and Scottsdale area. Choose a a lake nearest you to find more information including maps and directions. The largest lake in the area is Lake Pleasant and perhaps the prettiest lake is Canyon Lake.
Bartlette Lake
Canyon Lake
Lake Pleasant
Saguaro Lake
Northern Arizona. There are only two lakes in Northern Arizona that are conducive for water-skiing. One happens to be monstrous Lake Powell on the northern border with Utah. It is the second-largest man made lake in America and is also known as the "House Boat Capital of America". Lake Powell has almost 2,000 miles of shoreline. Upper Lake Mary, in Flagstaff AZ https://www.arizona-leisure.com/flagstaff-arizona.html is adequate for water-skiing, but the water level subsides frequently.
Colorado River Water-Skiing. This is a water-recreation wonderland with very large lakes on the Colorado River. Although Yuma, Arizona does not have its own lake, the river is wide at several points for some enjoyable skiing. Lake Mead, located on the Arizona and Nevada border happens to be the largest man made lake in the country.
Lake Havasu
Lake Mead
Lake Mohave
Southern Arizona. Patagonia Lake is the only water-skiing lake in Southern Arizona. It's located about 70 miles south of Tucson near the Mexico border.
Related Water Recreation
Boating in Arizona
Arizona House Boating
Fishing in Arizona
Most Popular Lakes in Arizona