Williams Arizona. Gateway To The Grand Canyon South Rim.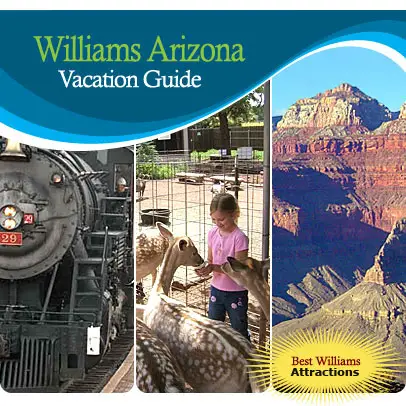 Laid-back, rustic and still very much "western", Williams Arizona still sustains the character of its rough and rowdy days. Although the saloons are still the gathering place, the brothels and gambling halls are a thing of its frontier past. Williams AZ is also located on the Historic Route 66.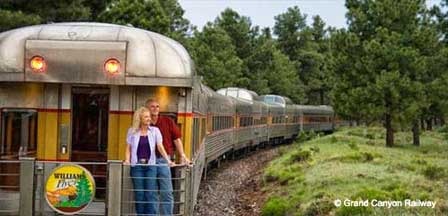 Named after William "Old Bill" Williams, an early day trapper, William's history is best known as the center of the Sante Fe Rail Line, ranching and old lumber mills. Just 58 miles from the South Rim of the Grand Canyon, tourism began with buckboard and stagecoach tours of the canyon.
Today, Williams AZ is home to the world famous Grand Canyon Railway and Resort which runs a scenic journey to the Grand Canyon aboard a century old steam-powered rail line. The railway tours over 200,000 visitors a year to the canyon's South Rim.
Williams, Arizona is conveniently located near other Northern Arizona vacation attractions. Flagstaff is just over 30 miles east of Williams and Sedona is located about 60 miles southeast of Williams. Williams features modern day hotels and motels. Architecture is reminiscent of years past where you can still enjoy down-home dining and a stiff drink.
The Williams area offers cool summer temperatures, four seasons and thickly pined forest at almost 7,000-foot elevation. The Williams area offers an abundance of outdoor attractions including Sycamore Canyon Wilderness which boast the second largest canyon in Arizona. Enjoy fishing and camping at Cataract Lake, Kaibab Lake, Dogtown Lake and White Horse Lake. The popular Williams ski area provides excellent downhill skiing, sledding and nearby cross-country ski trails. If you enjoy camping and hunting, the Kaibab National Forest surrounding Williams has over 200 campsites and seasonal hunting for deer, elk, mountain lions and bear.
Flagstaff High Country
Related Flagstaff Interest
Flagstaff Horseback Riding
Williams Arizona Weather Info
Williams Arizona RV Parks