Arizona Route 66 Attractions
Attractions Along Arizona Route 66

A tour along Northern Arizona's Route 66 and Interstate 40 which traces the original path of Route 66 is a nostalgic adventure as well as a geography and history lesson for the whole family. The tour passes through picture-perfect scenery including the cool pine country of Northern Arizona. Experience a plethora of scenic and historic attractions as you venture through small town America. The numbers on the map coincide with the attractions listed below.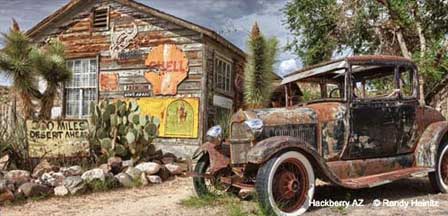 Petrified Forest National Park
Located at the southern end of the Painted Desert, the Petrified Forest features remnants of prehistoric petrified wood and ancient Indian ruins.
Meteor Crater
See where a big meteor crashed here over 50,000 years ago.

Walnut Canyon National Monument
Enjoy the upclose history of 800 year-old cliff dwelling ruins and great hiking within picturesque landscape.

Flagstaff, Arizona
High Ponderosa Pine country in bustling Flagstaff, Arizona home to Northern Arizona University, unlimited attractions, mountain golf and the Snow Bowl ski area and tram. Its San Francisco Peak at over 12,000 feet is the highest point on the entire Route 66.

Sedona & Oak Creek Canyon
Sedona, Arizona and picturesque Oak Creek Canyon lies about 20 miles south of Flagstaff down 89A described by Rand McNally a one of America's most scenic drives.

Williams, Arizona
The flavor of the old west still exists in this pine-forested small town, gateway to the Grand Canyon and home of the Grand Canyon Railroad scenic adventure to the South Rim of the Canyon.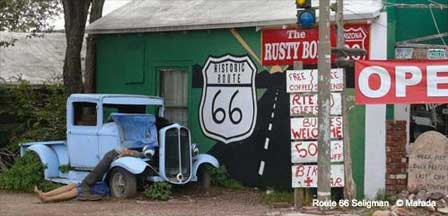 An atmospheric town where the Aubrey Cliffs approach. Seligman features only a few hundred residents, a few gift shops and vintage rusting cars.

Grand Canyon Caverns
Although not connected to the Grand Canyon, the caverns feature an underground trail reached by elevator giving close views of nature's cavern formations. There are suitable areas for camping.

Peach Springs
Peach Springs is the tribal headquarters of the Haulapai Indian Reservation. An unpaved Buck and Doe Road that is not recommended during and after rainstorms descends along Peach Springs Canyon a scenic drive that ends at a Colorado River beach within the West Rim area of the Grand Canyon. Just out of Peach Springs a paved turnoff leads through rolling hills to Havasu Canyon, a branch of the Grand Canyon.

Kingman, Arizona
Kingman is a modern day larger, small town that is home to the Historic Route 66 Museum and gateway to Hoover Dam and Lake Mead.
Oatman, Arizona
This one-time gold mine boomtown turned ghost town and now a tourist stop features wild-roaming burros and souvenir shops. Experience an important chuck of Arizona history.
Related Route 66 Interest
Arizona Route 66
Route 66 Arizona Stretch
Route 66 History
Most Popular Things To Do In AZ
Additional Arizona Activities