Colorado River Arizona Cities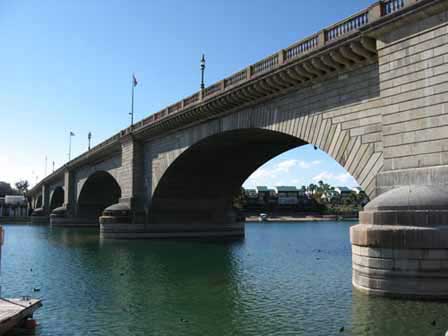 London Bridge at Lake Havasu City. Creative Commons
This area is known as "Arizona's West Coast". The Colorado River flows from Lake Powell west through the Grand Canyon into Lake Mead. It then turns south from Hoover Dam all the way to the Gulf of California in Mexico. The river forms the border between Arizona and California and parts of Nevada.
As the Colorado River flows south, a series of dams create placid lakes that spawned towns and communities that are centered upon water recreation. The hot climate is perfect for boating, fishing. swimming and water sports set within scenic natural wonder and riparian wildlife habit.
Towns Along The Colorado River
Visit the following towns for more information about exciting things to do. Not only do the Colorado River communities share the bounty of water recreation along the river, but each boasts in own unique things to do and their own lakes or large expanses of the river.
Bullhead City Arizona. Bullhead city sets on the Arizona side of the river across from the casinos on the Laughlin, Nevada side. A water taxi takes passengers back and forth across the river. Lake Mohave is just north of Bullhead City AZ.
Laughlin Nevada. Laughlin is in Nevada, not Arizona. Founded in 1964 by Don Laughlin who purchased this Southern tip of Nevada. Today Laughlin is a Vegas-style hotspot with many highrise resort casinos.
Lake Havasu City Arizona. Lake Havasu City has been dubbed as "Personal Watercraft Capital of the World and is home to the London Bridge built in 1831 in London, England spanning the River Thames. In 1971 It was moved to Lake Havasu AZ, one of the most popular student spring break places in the country.
Parker Arizona. Parker is the core community of the Parker Strip which is a 16-mile stretch of the Colorado River just south of Lake Havasu City. Parker is a very popular water recreation destination along the river.
Yuma Arizona. Yuma is Arizona's southern-most and largest town along the river and is located only about 7 miles north of the Mexico border at Algodones Baja Mexico.
Along The Colorado River