Welcome to Lake Mead
Lake Mead was created by the building of Hoover Dam which has a storied history of sacrifices made by the men, women and families that were involved with the dam's construction. Read more about Hoover Dam which at one time was called Boulder Dam is located on the northwest border of Arizona and southeast Nevada.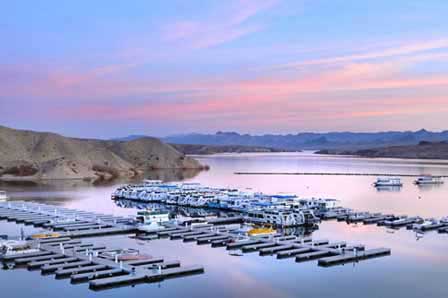 Cottonwood Cove at Lake Mead. NPS
Lake Mead is the second largest man-made reservoir lake in the United States behind Lake Powell on Arizona's northern border. Lake Mead extends over 110 miles from the dam to the western edges of the Grand Canyon. The lake stores over 28.5 million acre-feet of water fed by the Colorado River. The lake extends into both Arizona and Nevada and holds 9.2 trillion gallons of water which is the equivalent of two-years of flow through the Colorado River. The lake features over 550 miles of shoreline and varies in depth.
Where Ancient Peoples Once Roamed
Ten thousand years before the dam was built in 1935, the area along the river was home to ancient Native American cultures whose artifacts, pottery and hunting implements continue to be discovered today. Evidence indicates prehistoric peoples hunted game and practiced farming. In a cave near the present day Lake Mead, archaeologists have discovered remains of ancient animals with notches on the bones giving evidence of preparation and consumption by humans thousands of years previous.
Fishing At Lake Mead
Anglers will find Striped Bass, Largemouth Bass, Crappie and Catfish throughout the lake. Both Arizona and Nevada require a state fishing license for those 14 years or older when fishing portions of the lake located within each particular state. A "use stamp" issued in either state will permit fishing in either state's Lake Mead waters.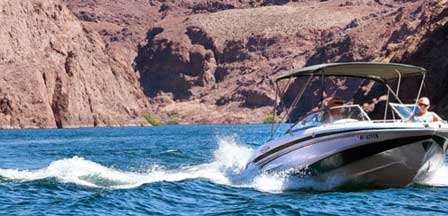 Lake Mead Recreation
The Lake Mead National Recreation Area also includes Lake Mohave, south of Lake Mead along the Colorado River. Combined, the area is larger than the state of Rhode Island. Lake Mead by itself is a massive water recreation playground that entices millions of annual visitors to its startling blue waters. The picturesque landscape is a mixture of desert outcroppings, lushly vegetated banks and high canyon walls that draws scenic photographers to its visual charm.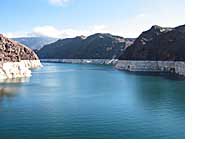 Lake Mead is a vast lake of major proportions with several marinas and campgrounds. It is a water-wonderland that caters to fisherman, house boaters, jet-skiers, water-skiers, power boaters, swimmers, sunbathers and those that love to see the sights. The lake features hiking trails of various levels of difficulty and it's a great place to observe native wildlife including Kit Fox, Bobcats, Ringtail Cats, Mule Deer, the rare Bighorn Sheep and a variety of typical desert creatures including Gila Monsters, Rattlesnakes and the mystifying Lizards.
Just taking scenic drives along the lake is quite a visual experience, particularly the drive along North Shore Road which is a 40-mile drive from Lake Mead Boulevard to Overton Beach. Along the way there are several scenic stops for photographic opportunity. A few miles past Overton is The Lost City Museum with a vast exhibit of prehistoric Anasazi Indian artifacts.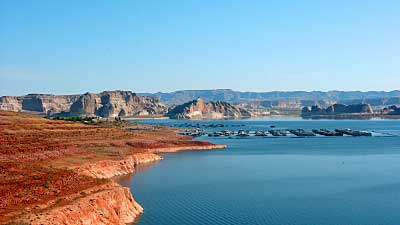 Several marinas offer rental boats, house boats and water vessels, Guided cruises and tours of Lake Mead are also available.
Main Basins of Lake Mead
The lake is comprised of four basins of which Boulder Basin on the Nevada side is the most active boating and watercraft recreation area. Boating east through Boulder Canyon reaches Virgin Basin. Southeast of Virgin Basin takes you to Temple Bar Basin and then continuing on to Gregg Basin. Continuing northeast will eventually reach the point where the Colorado River exits the Western edges of the Grand Canyon.
Boulder Basin Marinas
All marinas at Boulder Basin offer boat rental, general store, restaurants, dry storage and slip rentals. Boats for rent include small craft to 16 foot fishing boats, runabouts for water skiing, 24 foot patio boats and house boats large enough to sleep 14 people.
Lake Mead Marina
(702) 293-3484
Callville Bay Resort & Marina
(800) 255-5561
Las Vegas Boat Harbor
702-293-1191
Overton Arm
All marinas at Overton Arm offer boat rental, general store, restaurants, dry storage and slip rentals. Boats for rent include small craft to 16 foot fishing boats, runabouts for water skiing, 24 foot patio boats and house boats large enough to sleep 14 people.
Echo Bay Marina & Resort
(702) 394-4000
Temple Bar Marina
The Temple Bar Marina offers boat rentals, general store, restaurant, dry storage and slip rentals. Boats for rent include personal watercraft, fishing boats, runabouts and 24 foot patio boats and up to 59 foot houseboats.
Temple Bar Marina
(800)255-5561
Directions To Lake Mead From Las Vegas
At its closest point, Las Vegas is about 30 miles from the nearest portion of the lake. There are three ways to get there depending upon where you are originating from. Take Lake Mead Boulevard through North Las Vegas; through Boulder City or Lake Mead Drive through Henderson.
DirectionsTo Lake Mead From Kingman Arizona
From I-40 in Kingman, take US 93 north to Hoover Dam which is about an 80 mile drive. Cross the dam into Nevada and follow the signage to the lake before getting to Boulder City.
Directions To Temple Bar
From US 93 between Kingman and Hoover Dam and just past Milemarker 20 make a right at the Temple Bar exit. Temple Bar is located 28 miles from the Highway 93 turnoff.
Lake Mead Maps
Lake Mead Recreation Area Map
Lake Mead Locater Map
Boulder Basin Campground Map
Callville Campground Map
Echo Canyon Campground Map
Las Vegas Bay Campground Map
Temple Bar Campground Map
More Information About Lake Mead
Lake Mead National Recreation Area
601 Nevada Highway
Boulder City, Nevada 89005
(702) 293-8907