Tranquility and solitude at its best. Knoll Lake is surrounded by a dense Ponderosa Pine forest and features a picturesque island in the middle of the lake. It is located along the Mogollon Rim about 40 miles north of Payson, Arizona. Along the way, catch fantastic views of the Mogollon Rim.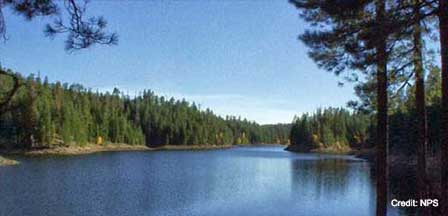 Knoll Lake is gorgeous. The 75-acre lake is stocked with rainbow trout and also has brown and brook trout. It is the perfect lake for seclusion with few visitors since reaching the lake requires driving a substantial distance of graveled road to get there. The Knoll Lake Campground is within walking distance of the lake.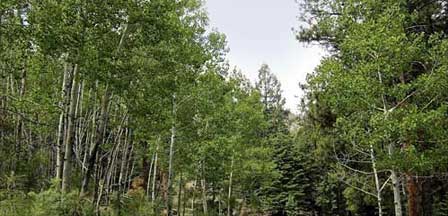 Location & Description. Knoll Lake is just northeast of Woods Canyon and Willow Springs Lake. Although closer to the town of Payson, AZ, the drive from Flagstaff south on Lake Mary Road to Clint Wells and then along the Rim Road (Forest Road 300) is a very spectacular scenic trip. The elevation of Knoll Lake is about 7,400 feet.
Lake Size. The water surface is 75 acres and is about 50 feet deep.
Season. Late April through September.
Fish Variety. Rainbow Trout, Brown Trout and Brook Trout.
Boating. Boat motors are restricted to electric motors only.
Camping, Hiking & Amenities at Knoll Lake Campground. It includes 30 single-unit camping sites for up to 8 campers and 3 double campsites for up to 16 people. Each camping site includes a picnic table, fire ring, and cooking grills. Potable water, vault toilets and a boat ramp is for common use. Tent and RV camping is permitted. A 32-foot maximum length for RVs and trailers apply. Nominal fees are charged and subject to change without prior notice.
Restrictions. Horses are not permitted in the campgrounds. Dogs must be kept on leash. ATVs and off-road vehicles may only be used for entry exiting the campsites. There is a 14 day stay limit.
Directions To Knoll Lake
Knoll Lake is about 80 miles southeast of Flagstaff, Arizona and about 40 miles northeast o Payson, Arizona. Main roads are paved. Forest designated roads are gravel.
From Payson. Take Highway 260 past Kohl's Ranch and Christopher Creek to Forest Road 300 (Rim Road). Take Rim Road to Forest Road 295E and turn right (north) and drive to Knoll Lake.
From Flagstaff. Take Highway 3 (Lake Mary Rd) south 55 miles to Clints Well. Turn left (northeast) on Highway 87. Drive 10 miles to Forest Road 95 which is just past the Blue Ridge Ranger District. Turn right and go 6 miles to FR 96 veering left and travel 2 miles to FR 321. Turn right and drive 10 miles to FR 300 (Rim Road). Turn left (east) and go 4 miles to FR 295E. Turn left again and proceed to Knoll Lake.
GPS: N34° 25' 38.6394", W-111° 5' 34.62"
Mogollon Rim Campgrounds Map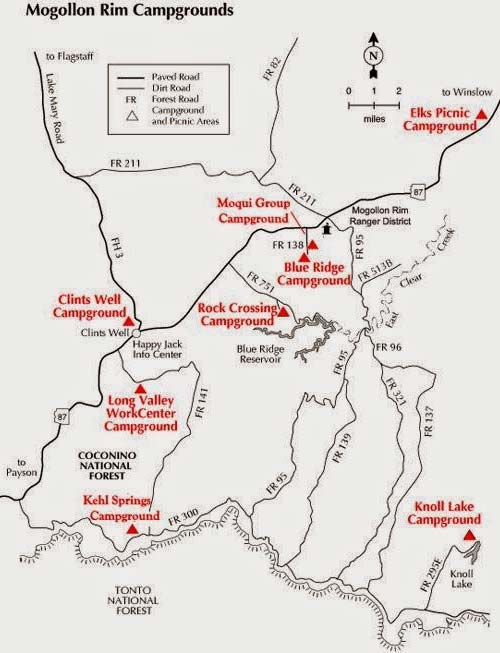 Map Location of Knoll Lake Campground
Knoll Lake Video
More Information
Mogollon Rim Ranger District
HC 31 Box 300
Happy Jack, AZ 86024
(928) 477-2255
Knoll Lake Campground
(928) 535-9233