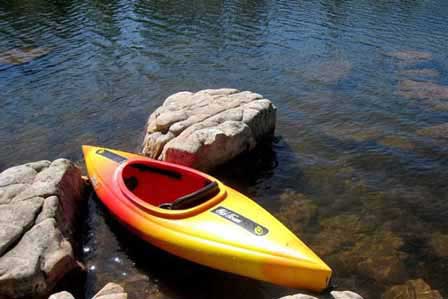 Woods Canyon Lake. © Alan Stark
Location & Description. Although a relatively small lake at 55 acres, Woods Canyon Lake is one of the most accessible of the Rim lakes and has a very scenic setting in a heavily forested area on the edge of the Mogollon Rim. The landscape is simply gorgeous and at an elevation of about 7,500 feet, visitors can expect very pleasant temperatures in the spring and summer months. It's four season territory with a cool, colorful autumn and cold and snowy winters.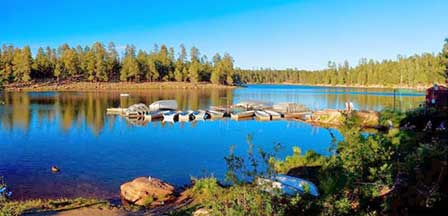 The lake is located about 30 miles east of Payson, Arizona and is very close to its sister-lake, Willow Springs Lake. Small, but mighty, Woods Canyon has produced some trophy size Rainbows and Brown Trout including a 10 pound Brownie caught in 1999. Access is restricted in the winter when roads are closed at the highway due to snow, generally from December to early April.
Lake Size. Woods Canyon Lake has a water surface of about 55 acres, an average depth of 25 feet and a maximum depth of about 40 feet. This is a deep canyon style lake.
Fish Variety. Rainbow and Brown Trout thrive here and there are some really big ones. The state stocks catchable size trout every week from May through September.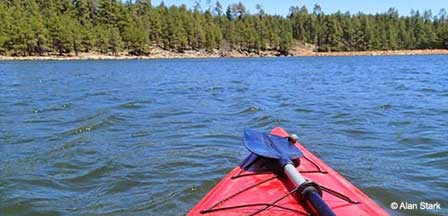 Fishing. When fishing for rainbow trout from shore, try Power Bait or worms. Boaters can try trolling a Super Duper or tiny gold Kastmaster lures. When it's hot in the summer, fish a little deeper, between 10 and 20 feet; but don't fish too deep, because the lake stratifies in the summer, meaning there's no oxygen at the bottom. The lake is loaded with crayfish; try fishing for big browns in spring and fall with spinners or lures that imitate crayfish patterns. A state fishing license with a trout stamp is required for anglers 14 years-old and above. Daily bag limit is six trout for licensed anglers and three for unlicensed kids under 14 years.
Boating. Boat motors are restricted to electric motors only.
Camping, Hiking & Amenities. There is a picnic area and restrooms at the lake along with a boat ramp. A concessionaire at the lake rents boats, sells fishing licenses, sells bait and tackle and carries well-stocked items in its country store. RVers will find a dump station about a mile from the lake. There are four fee-based campgrounds nearby including the most popular Spillway Campground which is the closest to the lake. It has 26 camp sites, each accommodating trailers up to 16 feet long. Conveniences at Spillway include a campground host, drinking water, picnic tables, barrier-free restrooms and fire rings.
Aspen Campground, along Forest Road 105, is much larger with 136 sites, and can accommodate trailers up to 32 feet long. It has the same amenities as Spillway. The Crook Campground is mainly a group camping area, with two loops and a total of 26 sites. Usually, one entire loop is reserved for a group. Each loop has a large ramada with picnic tables.
Mogollon Campground, located along Forest Road 300, has 26 units accommodating trailers up to 32 feet. Amenities are the same as at Spillway Campground. No reservations are taken for this campground. Camping fees at most of the campgrounds start at $16 per vehicle per night. The campgrounds are open from April 15 to October 15, weather permitting. Get more camping information and reserve a site by calling 1-877-444-6777.
Directions To Woods Canyon Lake
From Scottsdale and Phoenix. Take Highway 87 (Beeline Highway) northeast to Payson AZ and then Highway 260 East to Forest Road 300 (Rim Road). Then turn north onto paved Forest Road 105 and proceed about a mile to the lake. The lake is about 30 miles east of Payson AZ.
Map of Woods Canyon Lake
The map shows how to get to Woods Canyon Lake from Payson AZ and the locations of nearby campgrounds, hiking trails, picnic spots, scenic overlooks, and the Mogollon Rim Visitor Information Center. The map also shows the directions to Willow Springs Lake and Bear Canyon Lake on the Mogollon Rim within Apache Sitgreaves National Forest. Click on the location map to see an enlarged downloadable view.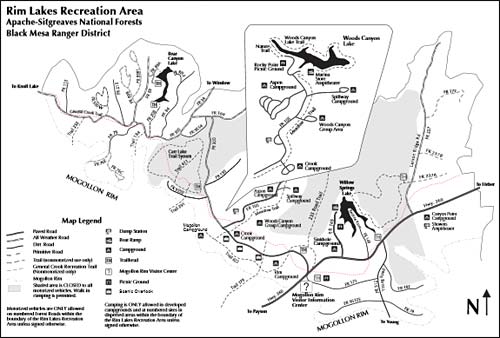 More Information
Apache-Sitgreaves National Forest
Black Mesa Ranger District
2748 East AZ 260
Overgaard, Arizona 85933
Black Mesa Ranger District
(928) 535-7300
Related Reading and Area Attractions
Payson Area Lakes
Christopher Creek Area
Strawberry Arizona
Payson AZ Cabin Rentals
Tonto Natural Bridge