Tombstone Arizona Once The Meanest Town in the West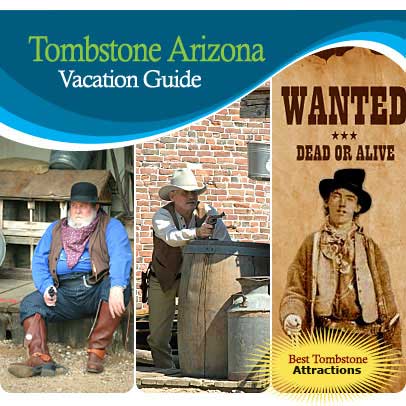 Step into Tombstone AZ and you'll be stepping back into the rough and toughdays of the wild west. In the 1880s, Tombstone was a booming mining town that brought a rush of prospectors and miners looking to strike it rich. It also became a magnet to thieves, card-sharks, murderers, rustlers and an abundance of bad guys.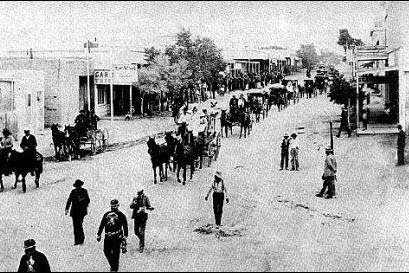 Allen Street 1881 Tombstone AZ
Founded in 1879 by Ed Schieffelin who discovered rich silver deposits, the town grew quickly. Within two years, it became an isolated metropolitan city with two banks, three newspapers. four churches, an opera house and even a bowling alley. But the thriving streets of Tombstone became wild and wicked with 110 saloons, 14 gambling halls, several dancing halls with brothels.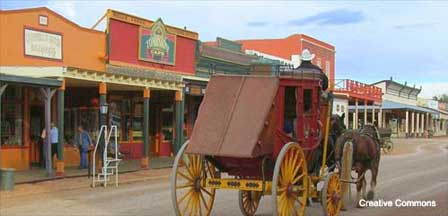 Early Tension Was Inevitable
The town quickly became politically embroiled. Most cowboys had migrated from southern states and were Democrats and Confederate sympathizers. The miners and business owners and most lawmen came from the northeast and midwest were Republican and anti Confederacy.
Many of the outlaw elements in Tombstone called themselves cowboys but were actually a loosely-knit group of cattle rustlers and stagecoach robbers. Real cowboys in Tombstone called themselves "cattle-herders" or "ranchers" to distinguish them as honest folks as opposed to the "outlaw cowboys".
Cowboys were a reckless group that were welcomed into town because they were free-spenders at saloons. poker parlors and bawdy houses. As a result, shootings became common place on the streets of Tombstone. Boot Hill Graveyard in Tombstone still harbors the old grave sites of those murdered or killed during gunfights as well as others that were hanged for crimes.
Under the surface, tensions grew into deadly conflicts. The Earp brothers, Wyatt, Virgil and Morgan came to Tombstone in 1880 in search of becoming rich. They instead became involved as lawmen.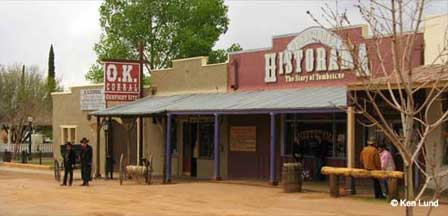 Ongoing conflicts with outlaw cowboys led to the famous Gunfight at the OK Corral pitting the Earp brothers and Doc Holliday against Ike and Billy Clanton, and Tom and Frank McLaury. The gunfight resulted in the killing of the Mclaury's and Billy Clanton. There bodies still lie at Boothill Graveyard in Tombstone.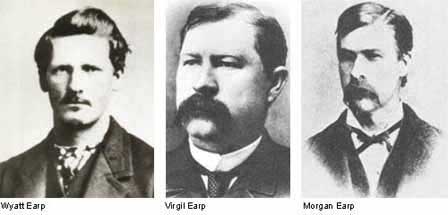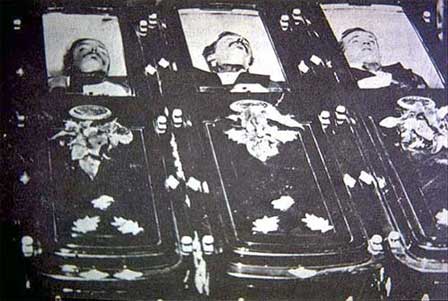 Bodies of Tom and Frank McLaury, and Billy Clanton
Tombstone Almost Became A Ghost Town
The anticipated railroad into Tombstone never was built. The sophisticated city (by early west standards) remained an isolated desert wilderness. The silver mine struck water and mining operations came to a halt. Gunslingers, miners, outlaws, gamblers, ladies of the night, and Earp brothers left the area.
Peak population of 12,000 to 18,000 (by differing estimates) dwindled to 700 by 1900. Tombstone was saved from ghost town status because it had been named Cochise County Seat until 1929 when it was moved to nearby Bisbee, Arizona.
Tombstone, Arizona Today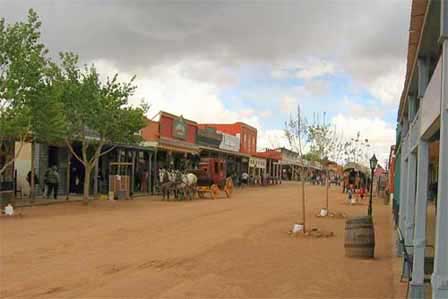 Allen Street Today. © Ken Lund
Today the aura and spirit of the wild west is alive and well in Tombstone as a popular tourist attraction that welcomes tourists into western history. Many of the original buildings still stand and some have bullet holes still visible from its rough and tough days. It is still reminiscent of days past where visitors can walk the same paths of the bad boys from the 1880s.
The Boot Hill Graveyard is a popular attraction where bodies of past villains and law-abiding citizens still lie. Be sure to see the staged gunfights and barroom brawls along Allen Street that are renacted on most Sundays during the month. There is no longer any bawdy entertainment, but the old Bird Cage Theatre is still open for tours.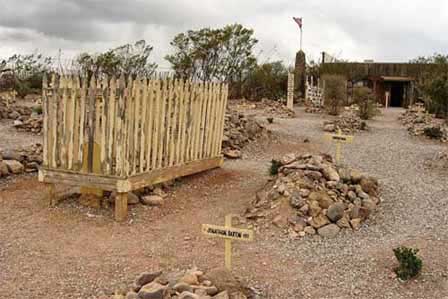 Boot Hill Graveyard. © Ken Lund
The old watering hole from 1879, The Crystal Palace Saloon remains a symbol of the "Old West", retaining its 1880's integrity. The original copper ceiling, adobe walls, and beautiful replica of the massive bar awe visitors as they step back in time to the only authentic saloon still operating in Tombstone.
Be sure to visit the Tombstone Arizona Courthouse built in 1882 which is now a state historic park and museum filled with artifacts and old photographs. And witness the town gallows on display in its courtyard.
The old Tombstone Epitaph offices are now a museum where you can see the printed stories of past times. The Silver Nugget Museum also offers an insight into its past days of 24-hour drinking, gambling and brothel visits. Be sure to take the tour of the "Good Enough Silver Mine" that still lies under the streets of Tombstone.
A restored home, the Rose Tree Inn Museum, reputably boasts the largest rose tree in the world that is over 100 years old and covers an 8,000 square foot arbor. The rose tree of Tombstone blooms during April of each year.
And of course you don't want to miss the OK Corral and its recreation of the Tombstone early years with film and onstage character animations. Walk the same paths that led to the infamous gunfight between the Earps and Clantons over 130 years ago.
Tombstone Video
Related Tombstone Interest
Tombstone Arizona
Bird Cage Theatre
Boothill Graveyard
Gunfighjt At The OK Corral
Tombstone Hiostory
Tombstone Weather Info
More Interesting Reading
What Happened October 26, 1881?
Explore Cochise County
Tombstone, Arizona Wikipedia
Southern Arizona Destinations