Lake Havasu City, Arizona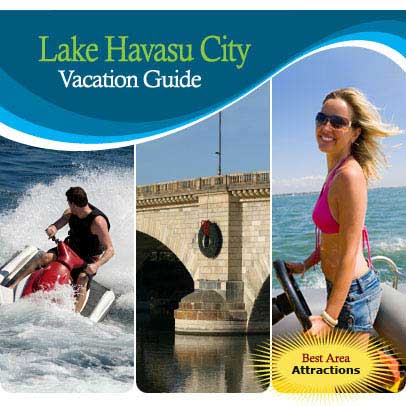 First time visitors might think their eyes are playing tricks on them as they approach the desert oasis known as Lake Havasu City, Arizona.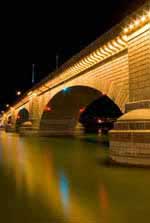 London Bridge
It isn't the crystal blue-green water of the Colorado River flowing refreshingly through the town that catches visitors off guard. It isn't the big-horn sheep and wild burros that can still be seen wandering at the town's edge that surprises people either. It isn't even the lush palm trees that seem to pop up out of nowhere as visitors snake their way along Highway 95 through the Sonoran Desert that gives the area its oasis-like appearance. What makes a first time trip to Lake Havasu City so spectacular and just a bit surreal is the bridge. Not just any bridge, but the world famous London Bridge. The London Bridge, a massive stone structure first built in 1825 across the River Thames in downtown London was moved to Lake Havasu City in the late 1960s to become its iconic landmark. For those visitors willing to suspend their disbelief at seeing the London Bridge across the Colorado River in western Arizona, a trip to Lake Havasu City is an exciting and unique adventure that should not be missed.
The Making of a Town
One of the first planned communities, Lake Havasu City was founded in 1964 around an old mining town that had been deserted for nearly fifty years. Robert McCulloch, a businessman and investor, sought to create a master planned community where sun-lovers and water sports enthusiasts could build their dream homes, taking advantage of the fabulous mix of hot, arid temperatures and the cool, refreshing water of Lake Havasu. Attention was paid to every detail in laying out the town, including the use of loop roads that drive visitors past prime restaurants and wonderful shops as they make their way across the lake and up and down the shoreline. The result was a spectacular vacation destination that is enjoyed by thousands of people every year. Lake Havasu City is home to approximately 55,000 people year round, with another 20,000 who make the cabins, cottages and houseboats that surround the 45-mile long lake their second homes.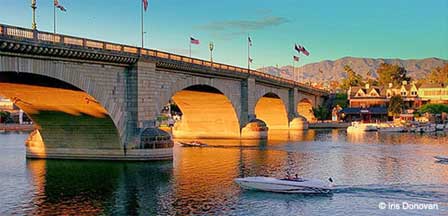 A Bit of Merry Old England
The London Bridge was quite literally falling down when it was replaced by the City of London in 1968. Almost 140 years of tidal river flow along the Thames had weakened the foundation and London planners needed a stronger, modern bridge to handle the town's increased traffic growth. Purchased at auction by town founder Robert McCulloch for just under $2.5 million, the individual stones were numbered and taken apart piece by piece, shipped to the United States and then reassembled in the Arizona desert. Once the bridge was complete, the ground underneath the arches was dredged away, creating water flow and forming a fabulous island around which Lake Havasu City could create its tourist economy. The bridge opened in 1971 and has been delighting visitors ever since. The London Bridge Resort Village, a British-themed tourist area surrounds the bridge district and offers guests English dining fare, traditional British crafts and a taste of European culture in the heart of the American southwest.
More Than Water Under The Bridge
Lake Havasu and its deep waters is the main attraction. The lake is over 45 miles long with over 400 miles of coastline features endless water recreation including power boating, jet skiing, house boating, fishing, kayaking, canoeing, sailing and camping as well as great hiking trails around the lake. Public shorelines with several beaches is ideal for family recreation. The lake is fringed with several coves and inlets that create excellent fishing environments for largemouth bass, stripped bass and trout. Lake Havasu is also a popular "spring break" destination primarily attracting college students from both California and Arizona. Lake Havasu City AZ is truly a town that lives up to its motto....."Where Fun is Always in Season".
Getting to Lake Havasu City
Lake Havasu City AZ is located on the shores of both Arizona and California. It is about 150 miles from Las Vegas, 208 miles from Phoenix, 307 miles from Los Angeles and 313 miles from San Diego.
Directions From Phoenix. Take I-10 West. Take Exit 19 marked Parker/Yuma to AZ 95 North. Continue on AZ 95 until you arrive in Lake Havasu City.
Directions From Las Vegas. Take US 93 south to Kingman Arizona. Then take I-40 to Arizona 95 south to Lake Havasu City which is about 60 miles from Kingman.
Colorado River Cities Distance Guide
South of Hoover Dam, the Colorado River flows between Nevada and Arizona and then between California and Arizona. The entire area is a water recreation wonderland comprised of vacation destination communities. Also see Lake Havasu City Tourist Guide for more information about Lake Havasu including its attractions, lake, London Bridge, spring break, nightlife, restaurants, boat rentals and much more about this water recreation oasis on the Colorado River between Arizona and California.
Bullhead City Arizona. 70 miles north of Havasu.
Laughlin Nevada. 70 miles north of Havasu.
Parker Arizona. 40 miles south of Havasu.
Yuma Arizona. 160 miles south of Havasu.
Lake Havasu City Map
Lake Havasu Photos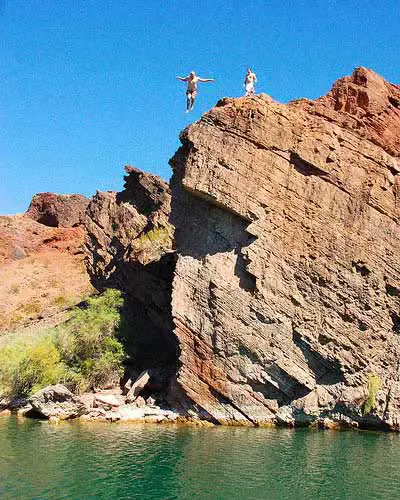 Blind Leap at Copper Canyon

Creative Commons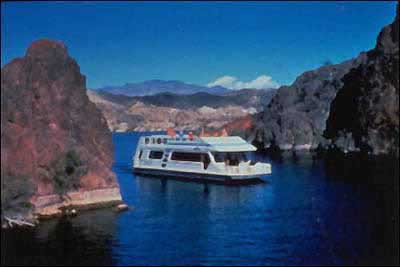 Copper Canyon © Lake Havasu CVB
Other Local Information
Related Lake Havasu City Interest
Lake Havasu City
Lake Havasu ATV Rentals
Lake Havasu Bed & Breakfasts
Lake Havasu Boat Rentals
Lake Havasu City Area Map
Lake Havasu Pictures
Lake Havasu Fishing
Lake Havasu Horseback Riding
Lake Havasu Boat Tours
Lake Havasu Vacation Rentals
Lake Havasu Weather Info
London Bridge
London Or Lake Havasu
Along The Colorado River