There are many lakes in Arizona large enough for power-boating. Most of them are located in the Phoenix and Scottsdale area as well as along the Colorado River on Arizona's West Coast. The largest lakes in Arizona are Lake Powell in Northern Arizona along the Utah border near Page, Arizona and Lake Mead on northwest border with Nevada.
So unleash that power or speed boat. Or rent one at your favorite lake. These Arizona Lakes are also perfect for jet-skiing, water-skiing or just gliding across the lake. They are also ideal for fishing boats, sailboats, kayaks, pontoon boats, and house boats. Or just take a leisurely drive on the crystal waters and soak-up the gorgeous Arizona scenery.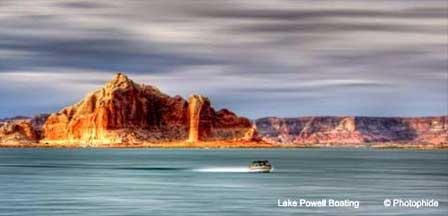 Power Boating, Boat Rentals in Phoenix and Scottsdale
There are several lakes in the Phoenix and Scottsdale, AZ area including Lake Pleasant, Saguaro Lake, Canyon Lake, Bartlett Lake, Apache Lake and Roosevelt Lake which is the farthest lake from the city. The lake marinas all rent boats and most offer boat repair. Speed boats, pontoon boats, fishing boats, jet skis and watercraft. Some offer house boat rentals.
Apache Lake
Bartlett Lake
Canyon Lake
Saguaro Lake
Lake Pleasant
Lake Roosevelt
The Two Largest Man Made Lakes in the Country
Measured by volume acre-feet of water at normal volume, Arizona has the two largest artificial lakes in America. Lake Mead has 28.5 million acre-feet and Lake Powell has 24.3 million acre-feet of water. Lake Mead is wider but Lake Powell is 188 miles long with almost 2,000 miles of shoreline. These lakes can hold any size boat. In fact, Lake Powell is considered the house boat capital of America. There are several marinas at each lake offering boat rentals, repair, and maintenance.
West Coast Arizona Colorado River Lakes
The Colorado River lakes either share borders with California or Nevada. They include Lake Havasu and Lake Mohave. Lake Havasu calls itself as the "Personal Watercraft of the World". It is about 45 miles long and is considered one of the most popular spring destinations in the country.
Related Information of Interest
Houseboating in Arizona
Fishing in Arizona
Lakes in Arizona
Hoover Dam
Glen Canyon Dam
How To Fish For Largemouth Bass