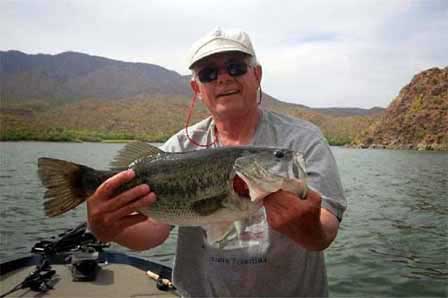 Rick Seaman 4lb Largemouth Bass. © AA-Fishing
Those that call Arizona all dry are all wet. And it isn't true that if you want to catch a fish in Arizona, you have to go to the grocery store. Well let's set the record straight. Arizona fishing is incredible. It's not just the fishing itself, but the diverse landscape beauty that surrounds the fishing spots as well. Check out the best places to fish in Arizona at AA-Fishing.com.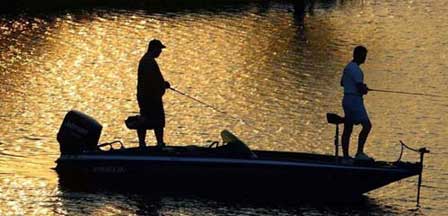 Fish the desert lakes in the spring, fall and winter. During the summer head to the high country where temperatures average 20 to 35 degrees cooler than the desert areas of Phoenix and Scottsdale. Regardless of whether you prefer waters next to steep canyon walls or mountain lakes surrounded by forests of pine, you will discover how great fishing is in all of Arizona.
Phoenix and Scottsdale Area Fishing Lakes
Lakes in the Phoenix and Scottsdale area are fairly large. with thousands of acres of water surface and average depths exceeding 100 feet. Turn the power boats loose because there are no limits on motor-size. Strap on the water-skis. Go searching for those spots where the trophy-size bass are abundant. Rent a house boat and relax in tranquil solitude. Amenities abound with marinas that provide boat rentals, boating services, general stores, restaurants and even boat tours.
Fishing Lakes in the Phoenix Area
Central and Southern Arizona Fishing Lakes
Southern Arizona has few lakes. Lake Patagonia, south of Tucson near Nogales, AZ is the centerpiece of Lake Patagonia State Park. The Central Arizona Lakes of Alamo Lake and Roosevelt feature some of the bass fishing in Arizona. Alamo is located about 80 miles northwest of Phoenix in a rather desolate area. Roosevelt Lake is the third-largest lake in Arizona located about 80 miles northeast of Phoenix.
About Roosevelt Lake
Fishing At Alamo Lake
Flagstaff Area Fishing Lakes
At an elevation of 7,000 feet, Flagstaff is a pine forested paradise holding several mountain country lakes. Some of these lakes depend upon snow melt and rain runoff to fill them. There could be periods when the lakes are full and times when they become almost dry. Boat restrictions apply. Depending upon the specific lake, fishing varieties can run the gamut from trout, northern pike, bass and other fish species. Most Flagstaff lakes include campgrounds.
Fishing Lakes in the Flagstaff Arizona Area
Lower Colorado River Lake Fishing
The lower Colorado River Lakes are a series of lakes on the Colorado River after it turns south from Hoover Dam. Those fishing lakes include Lake Mohave and Lake Havasu. The fishing waters also include wide parts of the Colorado River Parker, Yuma, and Lake Havasu City. The lakes are long and fairly large. Fish varieties include striped bass, large and small mouth bass, crappie and trout. You can also expect some very large catfish.
Lake Havasu
Lake Mead
Lake Mohave
Parker Strip
Northern Arizona Large Monster Lakes
Portions of the two largest man made lakes in America are in Northern Arizona. The largest is Lake Mead that sets on the border between Arizona and Nevada. The second largest is Lake Powell setting on the border with Utah. To say these lakes are large is an understatement. As an example, Lake Powell is over 180 miles long with almost 2000 miles of shoreline. Powell feeds the Colorado River as it begins its journey through the Grand Canyon. Both lakes are loaded with Largemouth Bass and Stripper Bass.
More About Lake Mead
More About Lake Powell
Payson Arizona Area Fishing Lakes
Payson AZ is the heart of Mogollon Rim territory where outdoor paradise beckons to be explored. Lakes in Rim Country are those within reasonable driving distance from Payson, AZ. Elevations range from about 5,000 feet to 7,000 feet in heavily forested landscape. Most lakes in the Payson area prohibit gas-motor powered boats. Some back country lakes can only be reached via short hikes. Lakes reward with both trout and some warm-water sport fish with beautiful camping spots.
Lakes in the Payson Arizona Area
Prescott Arizona Area Fishing Lakes
Located in the heart of the Prescott National Forest, the Prescott AZ area features 4 beautiful small town fishing lakes. At an elevation over 5,000 feet, you'll discover cool, crisp temperatures and pine forests. Some lakes prohibit gas-powered motors and if they do, non-wake speeds are strictly enforced. The lakes are highlighted with gorgeous scenery, great hiking trails, and campgrounds. Depending upon the specific lake, fish species include bass, trout and other varieties.
White Mountains Fishing Lakes
Elevations in the Arizona White Mountains range from about 6,000 feet to 10,000 feet which means four distinct seasons with heavy snow periods in winter months. The area is loaded with smaller mountain lakes surrounded by lush forests, many with camping grounds. Most lakes limit boats to low horsepower or electric motors. Some lakes only permit watercraft without motors. The cooler temperatures mean an abundance of trout species, but you will find some bass and typical catfish.
Related Helpful Information
Arizona Sport Fish Species and Varieties
Rainbow Trout Fishing At Lees Ferry
Urban Fishing in The Phoenix Area