House boating adventure abounds in Arizona. Whether you own a houseboat or plan on renting one, there are several Arizona lakes that are perfect for an enjoyable a relaxing time on cool, waters with lots of open space. Spend the day or an entire week vacation fishing, swimming, exploring, and experiencing stunning landscape.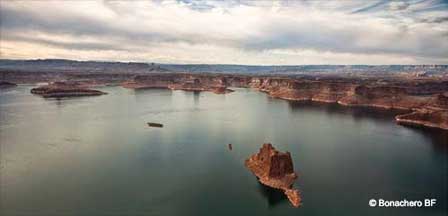 House Boating On Lake Powell
Lake Powell, located in Northern Arizona on the border with Utah near the Grand Canyon is the largest man made lake in America and is known as the "house boat capital" of the country. When full, Lake Powell is over 180 miles long with almost 2,000 miles of shoreline. Houseboat rentals are available at almost any size at several marinas at the lake. Of course, you can also bring your own houseboat.
The vast size of Lake Powell combined with amazing scenery is the perfect lake for an adventurous house boating vacation. During the summer, the water temperatures are an ideal 70 to 80 degrees, perfect for swimming and water recreation. You could spend an entire week at Lake Powell and never see the same spot twice.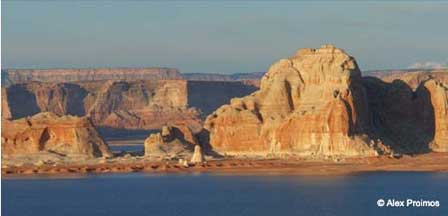 There are a myriad of side canyons to explore. Some tourists will cruise the lake sightseeing, fishing, jet skiing, water skiing and then anchor at night to enjoy the tranquility of dark skies and bright stars. That's why Lake Powell is a house-boating wonderland.
House Boating On Lake Mead
Lake Mead is the 2nd largest man-made lake in the country right behind Lake Powell. It is 110 miles long with over 550 miles of shoreline and its total water surface is twice the size of Rhode Island. Although they are about 290 miles apart, both Lake Mead and Lake Powell are fed by the Colorado River. Lake Powell is near where the Grand Canyon begins and Mead is near where the Grand Canyon ends.
Bring your houseboat or rent just about any size houseboat at several marinas at the lake. Lake Mead sets on the Nevada border with Arizona. Most of the large marinas are on the Nevada side not far from Las Vegas. As a vast lake, it is perfect for a house boating vacation. It's not a secret. On any given day, you may see hundreds of houseboats cruising the lake.
House Boating On Lake Mohave
Lake Mohave is located on Arizona's West Coast sharing a border with Nevada. There are marinas located on both sides of Lake Mohave that rent house boats of almost any size that will accommodate groups and large families. Of course you can bring your own house boat.
Although not as massive as Lake Powell or Lake Mead, Lake Mohave is quite large at 67 miles long with over 230 miles of shoreline. It is a long lake with its widest point at 4 miles wide. The landscape varies with sheer cliffs to sandy beaches and secluded coves. The lake is located just north of Laughlin, Nevada and Bullhead City, Arizona.
House Boating on Lake Havasu
Lake Havasu is located at Arizona's West Coast at Lake Havasu City, AZ. The lake sits between Arizona and California and has marinas on both sides of the lake. It is home the famous "London Bridge" that was moved from London to Lake Havasu in 1963. Lake Havasu is a bit smaller than Lake Mohave, but is much wider with wide-open blue water.
Lake Havasu is about 45 miles long with 450 miles of shoreline making it an ideal lake for house boating. Known for its crystal clear waters, it is perfect for houseboating, swimming, water-skiing, and fishing. Most marinas rent houseboats and offer boat rentals of any type. The lake is one of the hottest spring break vacation destinations for college kids.
Four Phoenix Area House Boating Lakes
Lakes in the Phoenix and Scottsdale area are large enough to handle house boats, but you will likely have to bring your own. At the time this article was written, no lake marina offered house boat rentals that were available for cruising.
However, the marinas at these lakes do offer other types of boat rentals such as pontoon boats, ski boats and runabout boats as well as jet-ski rentals. All lakes are within 40 miles from downtown Phoenix.
Lake Pleasant
Bartlett Lake
Saguaro Lake
Canyon Lake
Forever Houseboats Safety and Overview
Forever House Boats are available at these locations:
Antelope Point On Lake Powell
Temple Bar Marina Arizona Side at Lake Mead
Callville Bay Resort & Marina Lake Mead Nevada
Cottonwood Cove Resort & Marina Lake Mohave Nevada Side
Topics covered in this article
Arizona House Boat Rentals
House Boat Vacations
Used House Boats For Sale
Best Arizona Lakes For Houseboats