Cornville, Arizona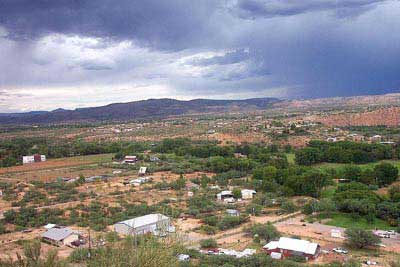 © Robert Graves Loy
You won't find much corn growing in Cornville Arizona. Its name of Cornville, AZ was mistaken identity. Story is that the name requested from the post office was "Coaneville" in honor of a pioneer family and the US Postal Service misspelled the name as "Cornville".
What you will find is small town America on the banks of Oak Creek. You'll also find wine grapes growing in this region of the Verde Valley. Although Sedona gets credit for being home to Northern Arizona's rich vineyards, those actually reside in the communities of Cornville and Page Springs located just south of Sedona, Arizona.
Cornville is not really an incorporated town. Neither is Page Springs. When census is taken, both communities are counted together. The approximate population is about 4,500 (2010). Cornville sets along the edges of the shimmering Oak Creek right after it meanders down from Sedona and Oak Creek Canyon. Its elevation of about 3,500 feet makes for comfortable year-round temperatures that are about 15 degrees cooler than the Valley of the Sun Phoenix and Scottsdale. The desert-dwellers can escape the scorching summer heat with a short hour and a half drive north to the Verde Valley along Interstate 17.
The area has a rich a storied history. Many centuries ago, this land was inhabited by ancient Indian civilizations that were attracted to the fertile soil and abundance of wildlife. The ancient Sinagua Indians mysteriously disappeared from the area about 800 years ago. Most historians believe they were the ancestors of today's Indian Tribes that still reside in the Verde Valley. Later the Spaniards came exploring in search of gold and silver only to move on in search of greater riches. In the early 1800s white settlers began migrating to the area. Some looking for gold while others were just flexing their pioneering spirit.
Cornville Area Attractions
Things to do and see are scattered all around the Cornville area. Discover an abundance of Indian ruins. In particular Montezuma Castle, a collection of well-preserved ancient "apartment" cliff dwellings carved high into the sides of sandstone cliffs. Rock art can be seen from the waters of the Verde River. More Indian ruins and old west buildings can be found hiking in and around the area. Spiritual vortexes where the New Age group believe soul-enriching energy emanate from the earth. Vortexes exist in many spots primarily in and around the redrock monoliths in Sedona.
The Out of Africa Wildlife Park in Camp Verde is fun for the whole family. TheVerde Canyon Railroad based in nearby Clarkdale will take you on a ride throughsome of the most beautiful scenery in Arizona. And of course, world-famousSedona, Arizona and its amazing spa resorts are just up the road from Cornville.The drive up or down Oak Creek Canyon is rated one of the most scenic drivesin America. And what was once considered the meanest town in the west,Jerome, Arizona is a short drive away. If the urge for casino action strikes, CliffCastle Casino is just off Interstate 17 north of Camp Verde.
Want to relax on the banks of Oak Creek without the crowds in Sedona?Pack a picnic lunch and head to Windmill Park in Cornville. This grassy and shaded 8 acres has picnic facilities set beside flowing waters. You guessed it, the park claims the landmark working windmill that can't be missed. Relax, enjoy the tranquility. If you have time, ride around and take a tour of the vineyards and wineries. Savor Arizona's favorite nectar of the gods.
While in Cornville checkout Eliphante. That is, if you can. Tours of this place must be arranged by prior appointment. Elephante is the name of a series of structures that began being built in 1979 on three-acres of loaned land. To reach it takes driving across across Oak Creek when its water-level is low or taking a canoe ride when waters run high. You will consider this "sculpture" of living spaces either an amazing collection of artistic creations or the architectural mess conceived by crazed minds. Either way, it will be a memorable experience.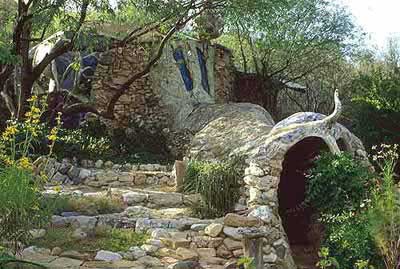 Compliments of www.eliphante.org
Its story is one of magic, romance and heartbreak. When a whimsical architectural creation of no apparent plan is combined with its storied history makes it an in depth attraction that is much greater than the tangible experience itself. Leda Livant fell in love with an eccentric artist and abandoned the comforts of a nice home, a successful husband, and young children. She and her new love, artist Michael Kahn made their way to Cornville, Arizona and committed to a life of poverty to build this maze of whimsical structures that spanned three decades beginning in 1979. They used strong backs to combine natural elements, discarded building material, sticks, stones, pieces of metal, paintings, sculptures and even musical instruments to create this architectural oddity of underground rooms.
Tours of Eliphante can be arranged by contacting Blue Feather Tours. The following links will connect you to in depth details of the romantic story and a slide show depicting the couple, their structures and their austere lifestyle.
More Information About Cornville
Visit Cornville Surf & Swap, a coop of businesses that serve Cornville, Page Springs, Cottonwood, Camp Verde, Clarkdale, Jerome and Sedona. You'll also find a blog and photos of the Cornville area. You'll love the background music to this Arizona Picture Gallery. If you are interested in buying land or a home in the Verde Valley area, they can also connect you to real estate professionals that know where the best values can be found.
Cornville Area Map