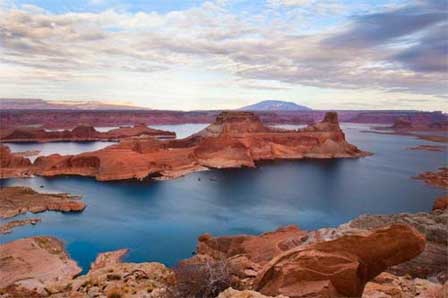 Lake Powell. Creative Commons
Located in Northern Arizona, near the Utah border, Page AZ is the Gateway to Lake Powell and the Glen Canyon National Recreation Area. Created in in the 1960s as the base camp for construction workers on Glen Canyon Dam, Page has become the center hub of Northern Arizona attractions and things to do and see for visitors, tourists, and vacationers.
Page, Arizona is at the door-step to Lake Powell, the center attraction and "Houseboat Capital of America". It sets on the plateau overlooking the lake and is very close to area attractions including Antelope Canyon, Horseshoe Bend, Lees Ferry, and other attractions on the vast Navajo Tribal Lands.
There is no shortage of things to do. Page, AZ is the perfect home base for vacationers that love outdoor adventure including boating and fishing on the second largest man made lake in the country. The two closest marinas on Lake Powell are just a few miles from Page, Arizona.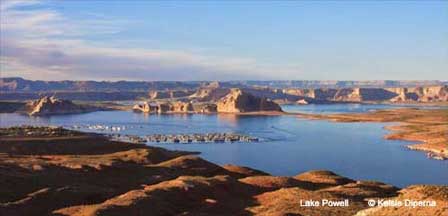 Things to do are limited by your imagination of ideal fun. Rent a house boat and explore the lake. Take a short, soft river float down the Colorado River to Lees Ferry where the river officially begins its journey into the eastern genesis of the Grand Canyon.
Page AZ is a small, scenic town with a population of about 7,500 setting an elevation of about 3,700 feet, high above the Colorado River. Expect all the amenities you will need. Super markets, restaurants, convenience stores, hotels, bed and breakfast inns, and even a golf course as a nice change of pace from lake recreation.
Most Popular Area Attractions
Top of The World Tower Butte
One of the most exhilarating experiences of your life. Fly in a helicopter over Lake Powell, Navajo Nation, Glen Canyon, and the Grand Staircase. Then soar to the top of Tower Butte at an elevation of 5,000 feet where you will be astounded with 360 degree panoramic views. Read more about Top of The World Tower Butte in Page, Arizona.
Page Area Map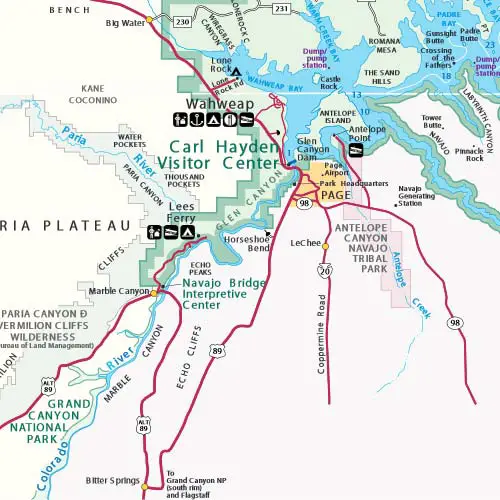 How To Get To Page AZ
From Flagstaff. Page is located about 135 miles north of Flagstaff, Arizona. Take Highway 89 North from Flagstaff to Highway 89T which is about 35 miles north of Cameron, AZ. Continue north on 89T to Page, AZ.
Google Map of Page, Arizona
Related Interest and Page AZ Area Attractions
Antelope Canyon
Glen Canyon Dam
Horseshoe Bend
Lees Ferry
Marble Canyon