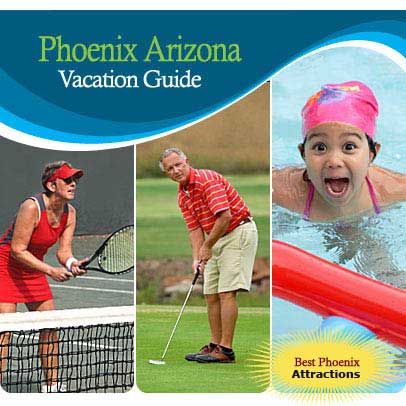 Phoenix Arizona Vacation.
AZ Style.
Phoenix Hotels. Resorts. Golf. Travel Vacation Amenities
Scenic landscape, Sonoran Desert tranquility. Phoenix Arizona, the nation's fifth largest city offers an abundance of cultural, recreation and vacation activity. Rustic and contemporary, Phoenix merges the excitement of the Old West, a thriving metropolis and wide-open spaces. Diversity and versatility makes Phoenix Az an ideal Arizona vacation.
Fun, adventure and relaxation abounds in Phoenix. Try it all. Sightseeing, tours, shows, the symphony, the arts and museums. Phoenix is a recreation haven that showcases golf, biking, hiking, boating, fishing, water skiing and horseback riding. Over 325 days of annual sunshine makes Phoenix a golf course mecca with over 200 stunning golf courses. And if you enjoy nightlife and fine dining, Phoenix is the destination.
There are so many ways to experience Phoenix and the Arizona sunshine. Convenient motels, quaint bed and breakfast, exquisite Phoenix hotels and the world's best resorts and spas. Discover vacation pleasure. See it all or simply lounge in quiet solitude. Absorb the finest. AZ style.
Also visit Phoenix ASAP where you'll discover a would of vacation services and a Phoenix Directory of solutions.
Other Local Information
Phoenix Arizona