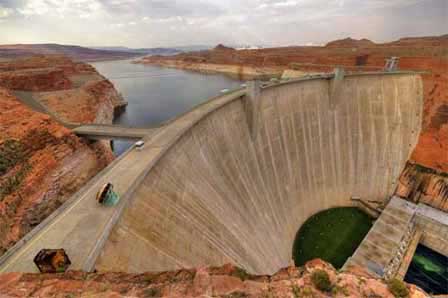 Glen Canyon Dam Forming Lake Powell. Creative Commons
The Glen Canyon Dam, built to withstand the rush of the mighty Colorado River in northern Arizona led to the formation of Lake Powell, which is the second-largest man-made lake in the United States. Lake Powell took seventeen years to fill and is, today, the core of Glen Canyon National Recreation Area, which is visited by millions of people each year.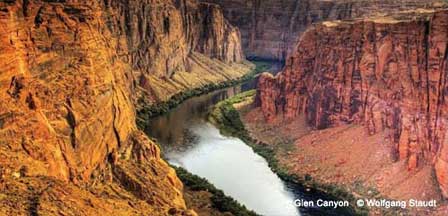 Glen Canyon Dam is operated and maintained by the U.S. Bureau of Reclamation. The dam was installed to provide water storage and hydroelectricity to several southwestern states, whose growing populations are ever-more dependant on it. Arizona, California, Nevada and New Mexico annually receive more than eight million acre-feet of water from the Glen Canyon Dam.
History of Glen Canyon Dam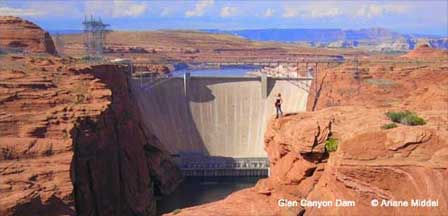 Construction was begun on Glen Canyon Dam in 1956 and was not entirely completed until 1966, although it began to block some river flow as early as 1963. The dam runs a length of 1,560 feet and is 587 feet high. The width at the dam's base is 300 feet. Above the dam is a bridge that spans 1,271 feet and is about 700 feet high above the Colorado River. Until the construction of the bridge, it required a drive of 192 miles to get to the other side of the canyon.
Glen Canyon Dam National Recreation Area
Lake Powell is a draw for millions of visitors to this area of the state. Its azure waters are framed by sunlit red cliffs. Visitors flock to the lake for swimming, water skiing, boating, and even scuba diving. The lake boasts just under two thousand miles of coastline and is even frequented by fishing enthusiasts. The town of Page, which began as camp for workers constructing the dam, is, today, one of the most populous towns in far northern Arizona and is filled with great lodgings and restaurants. Most activities for the area are booked at Page's John Wesley Powell Memorial Museum which doubles as a visitor center.
Page is also at the gateway of Navajo country where many splendid attractions can be visited. Page is a terrific point for taking various day trips. It's a five hour drive to both Vegas and Phoenix. It's situated near the mesmerizing Navajo National Monument and several incredible slot canyons like Antelope Canyon. Hiking is a popular outdoor activity, but some visitors prefer to marvel at the gorgeous landscape by taking one of the helicopter tours. As a recreation area, it is filled with a wide array of outdoor activities that are bound to please one and all.
Getting There
The Glen Canyon Dam is located at Page, Arizona which is situated on U.S. 89-136 miles north of Flagstaff. Located in the north central region of the state, Page is generally considered the entryway to the great Navajo Reservation. Tours of the dam are available and begin at the Carl B. Hayden Visitor Center which is nestled above the dam's power plant.
Nearby Attractions