Mesa Arizona. AZ Fun In The Sun
Mesa AZ. Hotels, Motels, Resorts and Recreational Adventure
Mesa Arizona is Arizona's third largest city. With a growing population of about 380,000, Mesa is among America's fastest growing cities. Mesa AZ and the surrounding Metro Phoenix area shares a wide variety of things to do and see. Mesa and the East Valley is home to many renowned golf courses and pickleball courts with scenic vistas of rugged mountains, desert flora and blue skies.
If baseball is your thing join the tens of thousands that travel to Mesa to enjoy spring training with the Chicago Cubs. Mesa AZ visitors will love the water recreation, boating, fishing, sailing, water-skiing and camping at the nearby lakes of Saguaro, Canyon and Apache. The canyon views, hiking trails and desert scenery are magnificent.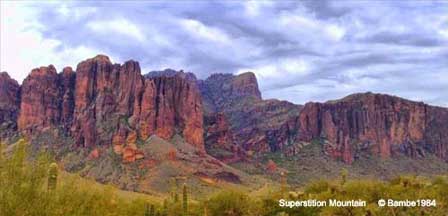 The world-famous Superstition Mountain and Wilderness Area is just east of Mesa. Thousands are still in search of Lost Dutchman's goldmine hoping to strike it rich. Many still find openly exposed arrowheads and pieces of pottery left by ancient Indian tribes that inhabited the area.
The City of Mesa Arizona offers a wide selection of hotels, motels and worldclass resorts that are typically less expensive than other Metro Phoenix areas. The feature provides a pleasurable travel vacation experience and the luxury of stretching getaway budgets. That way you can enjoy more time absorbing all that Mesa AZ has to offer.
Related Mesa Interest
Mesa Arizona
Mesa Map
Mesa Casinos
Mesa Golf Courses
Mesa Lake Tours
Other Local Information
Mesa Arizona
Metro Phoenix