Mesa Lake Tours and Cruises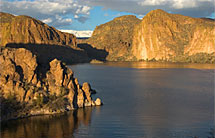 There are four lakes in the Greater Phoenix and Mesa area including Saguaro Lake, Canyon Lake, Lake Pleasant and Bartlett Lake. Following is a list of tour operators that offer boat tours and boat cruises, with featuring dinner cruises as boats and paddle boats cruise the gorgeous landscape of Phoenix area lakes.
Dolly Steamboat - Canyon Lake. So join us on the Dolly Steamboat for an unforgettable "mini-Arizona vacation" and see for yourself why there's nothing quite like a ride on Arizona's Dolly Steamboat.
Desert Belle - Saguaro Lake. Experience the magnificence of both desert beauty and natural wildlife of one of the Valley's hidden treasures, spectacular Saguaro Lake.
Arizona Duck Tours - Lake Pleasant. Explore the desert by land where you just might see wild life as well as desert vegetation and beautiful mountains before splashing into Lake Pleasant- definitely a highlite!
Tempe Town Lake Cruise Tours. Enjoy the unique experience of touring Tempe Town Lake in the comfort of a Rio Lago Cruise Company 18passenger electric boat. Learn about the history of the Rio Salado Project.
Related Mesa Interest
Mesa Arizona
Mesa Map
Mesa Casinos
Mesa Golf Courses
Mesa Lake Tours
Metro Phoenix