Exploring the Grand Canyon's North Rim.
Grand Canyon Lodge
A vacation to the remote, North Rim of the Grand Canyon delivers some of the most spectacular vistas you'll find anywhere in the world. Once you've reached the North Rim, get out your hiking boots and explore. You can hike numerous trails or drive to the three main viewpoints.
View from the Toroweap Overlook
Bright Angel Point is a popular spot at the southern end of the entrance road. You'll walk over to the Grand Canyon Lodge and then follow a short, paved trail to the point. This trail does have a few steep sections and stairs but it offers a spectacular view.
Take a winding drive to both Point Imperial and Cape Royal where you'll see an expansive view of the canyon. The views of the Grand Canyon from the North Rim give you a sense of its vast scale rather than its depth. In fact, you may not even be able to see the Colorado River below.
Point Imperial is located 8,803 feet above sea level and overlooks the eastern end of the Grand Canyon. Below, the Marble Canyon winds its way toward grandeur where it opens up dramatically.
Cape Royal provides dramatic, sweeping views of the canyon. A paved, level trail makes getting here easy and rewarding. Straight across, you can see the Desert View Watchtower located on the South Rim. Look for the natural arch known as "Angels Window" and notice how it frames the Unkar Delta below.
A fourth viewpoint takes a bit more effort to reach. Point Sublime is accessible via a rough road that is subject to poor road conditions and occasional road closures. A four-wheel drive vehicle is highly recommended for this two-hour, one-way trip.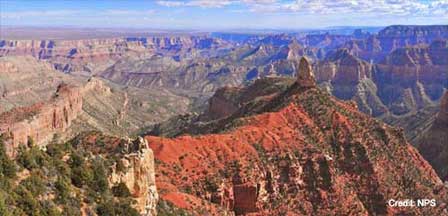 North Rim Informational Guides
The following brochure guides in PDF format provides invaluable insight into the North Rim including overviews into backcountry hiking into the canyon, overlook viewpoints, safety information and planning for a great time at the Grand Canyon North rim.
North Rim Guide
Bright Angel Point Brochure
Wildforss Trail
Walhalla Glades Pueblo
Getting Around the North Rim
Unlike the South Rim, don't expect public transportation options such as free shuttles buses. In addition, the North Rim's visitor services and facilities operate only from mid-May to mid-October. Visitor services close during the winter months due to snow and cold weather.
A shuttle goes to the North Kaibab trailhead twice each morning during the season for a small fee in conjunction with the Grand Canyon Lodge. You must reserve tickets 24 hours in advance and purchase them at the Grand Canyon Lodge front desk.
The Trans Canyon Shuttle travels between the North Rim and South Rim daily during the season for a fee of $70 per person each way (or $130 roundtrip). Reservations are required. Call (928)638-2820.
North Rim Departure: 7:00AM (arrives at the South Rim at 11:30AM)
South Rim Departure: 1:30 PM (arrives at the North Rim at 6:00PM)
Note: Fees and schedule are subject to change.
North Rim Lodging
The North Rim is more remote and only one hotel is located within its boundaries, the Grand Canyon Lodge. This lodge books up fast and early! Make your plans well in advance to ensure you get a room. Outside the park, you'll find a couple of hotel choices including the Kaibab Lodge and Jacob Lake Inn.
Camping in the North Rim
The only campground within the park in the North Rim is the North Rim Campground. This campground does not have hookups however it does have a dump station for RVs and trailers. It is open from mid-May through mid-October with limited sites available until snow closes Highway 67. Amenities include restrooms, coin-operated showers, and handicap accessible campsites. Call (877) 444-6777 for more information.
Park Fees
Single-visit Grand Canyon National Park entrance fees are good for seven consecutive days. These fees are priced individually or by the carload. The individual pass ($12) is meant for pedestrians, bicyclists, and motorcyclists. The vehicle pass currently costs $25.
The Grand Canyon National Park also accepts National Park Passes, Golden Age Passports, Golden Access Passports, and Hologram upgrade passes.
Best Time To Visit The North Rim
The North Rim Park is closed during the winter because of heavy snow from late October until mid-May when it opens for visitors. It is fairly cool during the summer months with highs in the mid 60's (degrees F). At this high elevation, temperatures drop considerably at night so jackets and sweatshirts are recommended. Rainfall is lowest during April to June and highest in August when rainstorms accentuate the views with spectacular shows.
How to Get to the North Rim
The park entrance to the North Rim of Grand Canyon National Park is about 30 miles south of Jacob Lake, Arizona (not far from Utah) on Highway 67.
From Zion National Park. Take Highway 9 to Mt. Carmel Junction, then turn south on Highway 89 to Kanab, Utah. At the stoplight in Kanab, Highway 89 turns into Highway 89A. Continue on US 89A to Jacob Lake (about 36 miles), then take Highway 67 to the entrance of Grand Canyon North Rim.
From Flagstaff. Take US 89 North to US89Alt. Take US89A West to Highway 67. At Jacob Lake, turn South on Highway 67 and continue to the entrance to the North Rim. Total one-way trip is about 207 miles (333 km).
More Information
North Rim Directional Map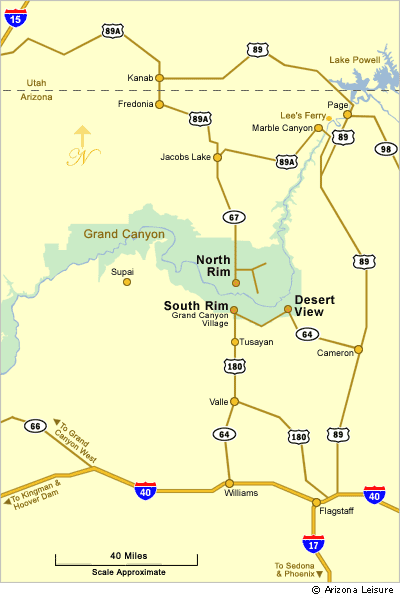 Grand Canyon North Rim Maps
North Rim Overview Map
North Rim Detail of View Points
The Spectacular Grand Canyon