Lively Tempe Arizona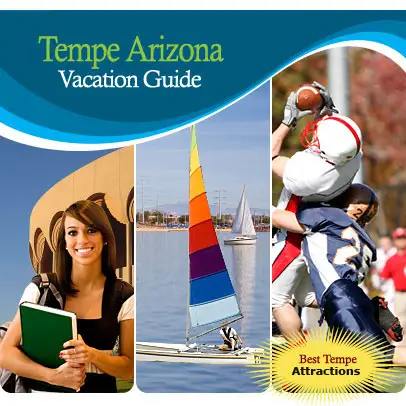 Great Tempe Hotels, Resorts, Restaurants and Recreation
In about 1870, Tempe was known as "Hayden's Ferry", named after its founder, Charles Humbell Hayden the father of Senator Carl Hayden. Charles built a flour mill and Hayden's Ferry, a cable-raft on the southern bank of the Salt River to carry people and commerce across the river to the nearby "Phoenix settlement". An English traveler suggested renaming the community "Tempe" because its lush Mesquite tree landscape against what is now "Tempe Buttes" reminded him of the Vale of Tempe in Greece.
Today Tempe Arizona is a thriving city of 160,000 residents and popular destination of vacationers and business travelers. The main attraction is Down Town Tempe along Mill Avenue where turn of the century flavor blends with modern day amenity. Downtown is home of the world famous New Year's Block Party, attended by over 100,000 joyous revelers each year. The Block Party celebrates the new year and the Fiesta Bowl Championship held at Sun Devil Stadium on the campus of Arizona State University.
Downtown is a pedestrian-friendly area of entertainment where people live, work, play and watch other people. It's an intimate atmosphere of shady brick sidewalks amidst a showcase of dining, shopping, nightlife and entertainment. Take a canoe ride down Tempe Town Lake, enjoy a Broadway show at Grady Gammage, hike the small mountains and experience a major college of NFL football game.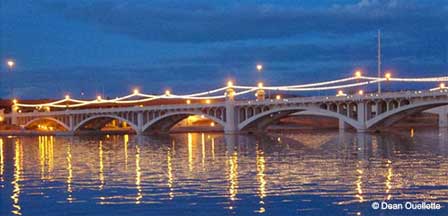 Tempe hotels feature casual southwestern style hospitality. Choose from modest motels, full-service hotels to the luxury amenities of some of the world's best resorts. Like the Wyndham Buttes Resort where you can view the nightlights of the Valley from your mountain top spa. Or the Pointe at South Mountain where luxury overlooks scenic golf with mountain top views from its Rustler's Rooste western style dining and country music dancing. The Tempe proximity to Phoenix and Scottsdale makes Tempe Arizona the ideal lodging point to enjoy the entire Valley of the Sun and the points of interest it offers. Play pickleball at local pickleball courts.
No need to leave Tempe AZ to enjoy fine dining and nightly entertainment. Whether casual or elegant, Tempe restaurants offer a tasteful cuisine for every discerning palate. From southwestern Mexican flavor, prime beef, Asian delicacy to microbrewery grills, Tempe will pleasure your dining desires. And after a day of adventure, fun or relaxation, Tempe Arizona offers an endless selection of nightlife to entertain your wilder side.
More Tempe AZ Information. Also visit Life in Tempe where you discover more about Tempe, Arizona including Tempe Restaurants and Tempe Nightlife. Checkout the festive annual events in Tempe such as The July Fourth Fireworks Show. Find out why Mill Avenue is the Valley's hot spot.
Other Local Information
Tempe Arizona
Related Tempe Interest
Tempe Arizona
Tempe Map
4th Of July - Tempe
Holiday Fantasy Of Lights
Mill Avenue District
Tempe Beach
Tempe Casinos
Tempe Arizona Pictures
Welcome to Tempe Arizona where AZ fun never sets.
Metro Phoenix